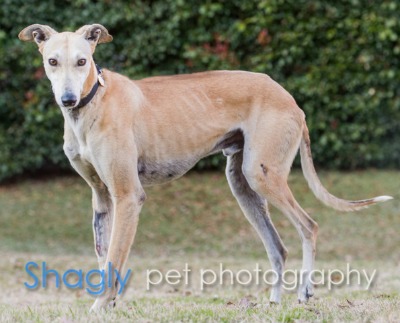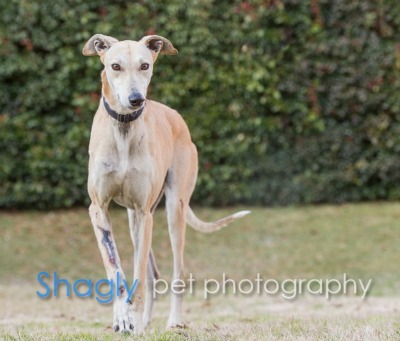 Tarzan is an approximately 4 year old fawn male who was found as a stray in the Arlington area, along with Jane. He has a previous leg injury that is being evaluated, along with his general medical condition.
Tarzan is not considered cat tolerant.
UPDATE 3/1/16
Because Tarzan's previous injury to his right front leg was not healing at all, he was referred to Dr. Bob Radasch of Dallas Veterinary Surgery Center for a tissue and bone biopsy of the wound. Samples were sent out and are expected to take up to two weeks for complete analysis.
UPDATE 3/19/16
Bone and tissue biopsy results are back and do not show any bacterial or fungal issues at this time. Tarzan is starting a round of new antibiotics and regular dressing and bandage changes in an effort to heal the wound.
UPDATE 5/17/16
Tarzan's leg is finally healed and he is completing his last few days of antibiotics! This boy is ready to find his forever home!
Watch more of Tarzan
Tarzan, or TZ as he is known, is the ultimate couch potato – he hasn't met an ill-fitting couch, chair, loveseat or comforter…or dog bed yet! He doesn't jump on the furniture; instead he somewhat gracefully steps into the future nap site. Because people beds are too high, he has never attempted to get on one. Having been a stray in his prior life, he does like to lounge in the sun and sometimes has to be coaxed to come inside….where he can cool off in a favorite chair. Tarzan will literally come skipping when he hears his name, he adores having his neck or hips scratched and will start to melt a bit. This boy will occasionally do zoomies, usually it's a short one by himself or a playful chase with one of his housemates. Even though other dogs in the house are early risers, Tarzan is not! Storms don't bother him but he will bark at the first crack of thunder, in case we didn't hear it too! Oh, and he's quite a watch dog so he does have an outdoor voice and a high prey drive to keep squirrels, rabbits or other critters out of the yard. Tarzan loves to go for walks or a ride in the car. Because he's not a jumper, TZ does need assistance to get in the car. He'll stand for a while and put his nose out the window before he settles down. On a walk he is quite a puller; we use a thunderleash on him for better control. Toys factor in every now and then, but shoes are a lot more enticing. Tarzan has reminded us to be sure to put the footwear away or at least out of his reach. Food is a big motivator for this guy. He does a cute happy dance at each meal and will eat at an appropriate pace. TZ is a bit "soft" now that he's domesticated and we are trying to watch his portions and keep his weight under control. Tarzan has been through a lot with his previously injured leg which took nearly 8 months to heal. All that remains is a noticeable scar. He's got a lovely personality and is a greyt companion. He and our 40 lb cattle dog have fun playing big-mouth-bitey-face and chase; and then takes a long nap to recover. Tarzan's ideal home will have another medium to large dog (no small dogs or cats please), a yard for sunning and people who allow him to enjoy time on the couch…chair…loveseat! Because of his barking, he is not suited to apartment life. Are you the family Tarzan needs to make your, and his, life complete?

Tarzan's Foster Family