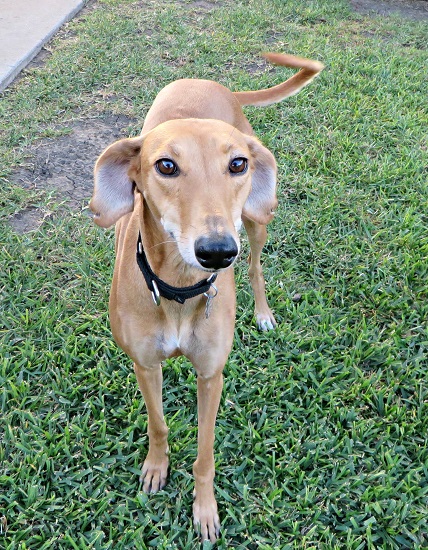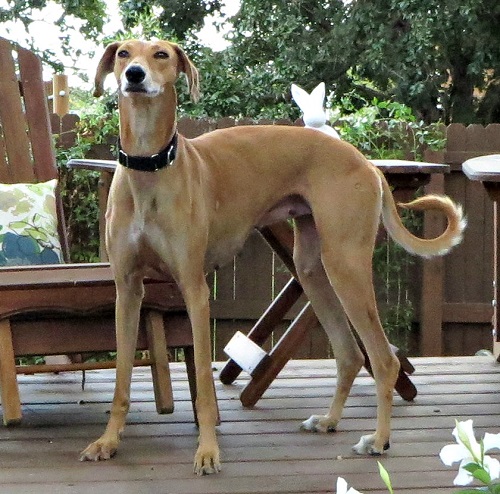 Sunshine arrived at GALT on Saturday, June 28, 2014, from Ft. Worth Animal Control and Care. She had been captured the day before as a stray and during the process, her front left leg was broken. She is a tiny girl thought to be approximately 4 years old, and it is obvious she has had several litters of puppies. Sunshine is scheduled for surgery with Dr. Douglas Lange of Dallas Veterinary Surgery Center on Monday, June 30. Please consider helping with a donation for her medical care. Sunshine is also being treated for the tick-borne disease Ehrlichia Canis. This little girl is likely a greyhound/saluki mix.
Sunshine has passed an initial cat test and has lived with cats in a foster home.
UPDATE 7/1/14
Dr. Lange performed surgery yesterday implanting an eight hole plate with screws to stabilize the front left leg which is fractured in two places. She will be in a splint with weekly bandage changes for 6 weeks.
UPDATE 8/27/14
Sunshine's x-rays look good and her splint was removed. She will slowly return to normal activity levels over the next few weeks. She continues her treatment for Ehrlichia.
UPDATE 11/12/14
Sunshine has successfully completed her treatment for Ehrlichia, and has finished her medical procedures.