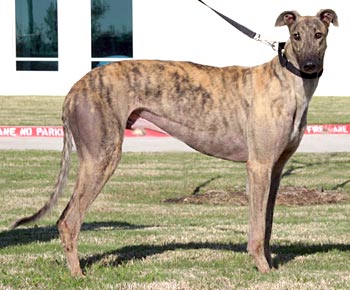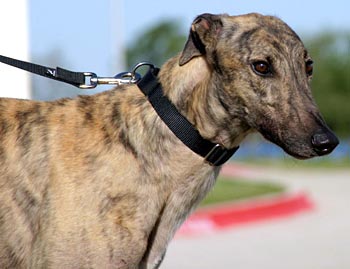 Streamer, aka Xtrem Le Grumpy, is a 4-year-old brindle male born January 15, 2004. His sire is WW Time Warp and his dam is Alot of Heart. Streamer began his 139-race career on June 22, 2005 in Dubuque, Iowa, with stops in Council Bluffs, Iowa, Kenosha, Wisconsin, and finally wrapping it up at Valley Race Park in Harlingen, Texas, on April 4, 2008. We are not sure how Streamer got his name, but he is anything but Grumpy. As you can see he is a very handsome guy who is ready to begin his life in retirement.
Streamer and Molly the cat: Streamer's cat test was over very quickly - he would not back down when Molly swatted, hissed, and growled at him. Then he chased her (leash and muzzle on) down the hall and snapped at her a couple of times. Streamer is not to be trusted with cats. Streamer got a second chance – same result. We'll see how he does with small dogs later.
Streamer has had his tail docked since these pictures were taken.