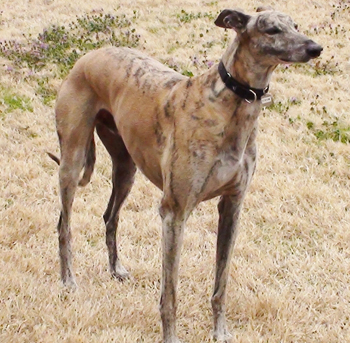 Transferred to GPA Houston - working together to keep the best interests of the dogs first!
Stevie is an 8-year-old brindle male born March 2003. His tattoos are illegible except for the 33. Stevie was turned into the Rockport Animal Shelter by his previous owners, saying they could no longer care from him. He had been in their home for 3 years after being adopted directly from the Corpus Christi race track. We are grateful he was turned over, as Stevie was heartworm positive. He was successfully treated under the care of Dr. Ron Stried of VCA Tanglewood Animal Hospital in Austin.
Stevie is small dog and cat tolerant.
Stevie has adjusted well to being an "only dog" in his new foster home - he seems to enjoy all the attention. Stevie is very affectionate and loves to be petted. If you stop, he will nudge your arm with his head to ask for more. Stevie loves to go on daily walks and gets extremely excited when he sees his leash come out. He also enjoys sitting in the backyard under the sun. We've even caught him sleeping back there a few times as well.

Stevie does well riding in the car and has no problem crating. He has very good house manners and has never had an accident indoors. Stevie prefers to avoid tiled areas so counter-surfing is definitely not a problem. Stevie is friendly towards other dogs and wags his tail happily when greeting them. He is very gentle with small dogs. He also doesn't act interested in the ducks at our neighborhood pond or local squirrels. He lets us clean his ears, dremel his nails, and brush his teeth and hair.

Stevie's Foster Mom