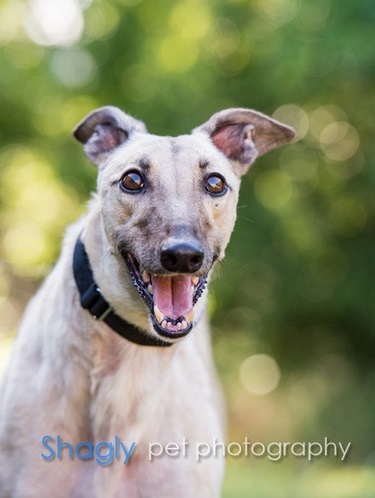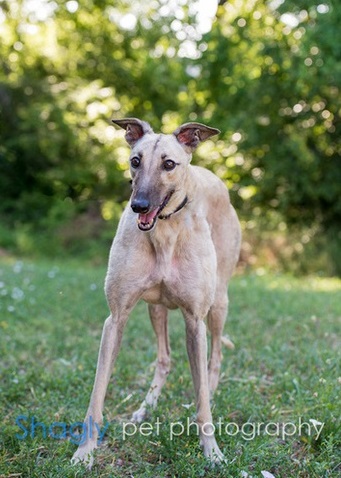 Stella, aka Turbo Stella, is a 6-year-old fawn female born April 10, 2010. Her sire is Bob's Skeet and her dam is Turbo Wind Blown. Stella has 12 races on record at Greyhound-data.com, all in Palm Beach from September to November of 2011. She then retired to a breeding farm, but has no litters on record as of now. Stella was in a home for several months, but it was ultimately not a good fit, and she's back looking for a forever home. There is evidence that Stella has suffered a prior right hock injury and will likely always have a limp.
Stella tested cat intolerant at this time. Stella should not live with small dogs or small children. She is thunderphobic and should be crated and not interfered with during thunderstorms.
UPDATE 9/2/14
When Stella was spayed, the x-ray taken revealed a previous fracture to her right tarsal region involving the calcaneus, which most likely occurred in November 2011. Dr. Radasch looked at her x-rays and did a physical examination. He has determined that her previous fracture is too old and "set" to be able to reset it. She is taking Dasequin which seems to be helping her joints, but she will always have a limp.
Watch more of Stella
Stella has stellar house manners! No accidents, no counter surfing, and she crates well. She has also been reliable while not crated. She loves mealtimes, likes chew toys, and likes to grab a squeaky toy to play with now and then.

Stella takes a little while to warm up to you, but once she does, she bonds and is very affectionate. She likes slow, sniffy walks in the neighborhood. Her limp does not affect her neighborhood walks or climbing stairs, but she's not going to jog with you. She's very happy when her people come home and will give you kisses to show you how much she missed you.

Stella is not a big fan of thunderstorms, but she'll go find the dog bed we put in our closet and stay there during them. That's her happy place, and she does best left alone there during a storm.

While Stella is currently living with several other greyhounds, she does get grumpy and protective of her space. She would do best in a home with no other pets. She loves people, but small kids would be too unpredictable for her. Stella's perfect home is out there - is it yours?

Stella's Foster Family