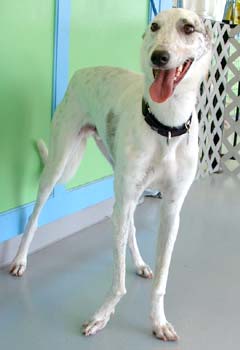 Speedy, formerly known as Rob, is a 12-month-old white and brindle male puppy who is facing serious corrective surgery on his front right leg which was injured during the six months he was in his adoptive home. He has been returned to GALT because the family was unwilling to pay the surgery fee and care for his convalescence.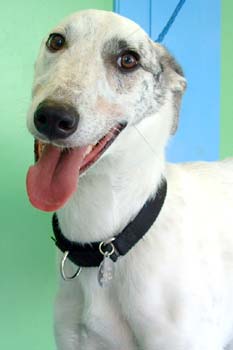 Speedy's condition has been diagnosed as premature closure of the distal ulnar physis with valgus deformity of the distal radius. In layman's language, Speedy has sustained trauma to the right distal ulnar growth plate. The radius has continued to grow around the restrictive ulna, creating the abnormal conformation. Creating a man-made fracture in both bones with the application of an external fixator devise will save both the wrist and elbow, and return normal function. A non-union will form if the fracture is not allowed a motion-free environment, so keeping Speedy quiet for 8-10 weeks post-op will be a challenge. Speedy is in the care of Drs. Bertrand and Radasch at the Dallas Veterinary Surgery Center. His surgery cost is estimated between $1900 and $2200 and is scheduled for June 10.
Speedy is one of the best behaved and sweetest pups you will ever meet! He knows his obedience commands, and follows them very well. This is a big plus in his recovery. His foster home is very well trained in the medical treatment of animals, and Speedy is very lucky to be in their care.
Update 6/10/04
Speedy's surgery cost totaled $2153. Thanks to ALL who have helped so far via the Miss Mesa Fund!
Speedy's surgery was performed on Thursday, June 10, by Dr. Robert Radasch of the Dallas Veterinary Surgical Center. Dr. Radasch is very, very pleased with the results as he said they were able set Speedy's leg almost perfectly straight!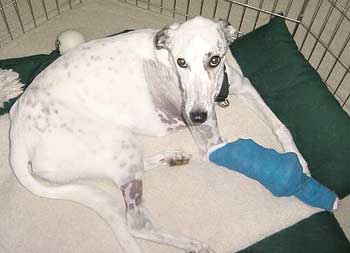 Speedy will stay at the Surgical Center until probably Saturday when he will be released to his foster family, who are very, very dog savvy when it comes to medical issues. Speedy has an external fixator device on his right leg that will remain for at least 8-10 weeks. Now the hardest part starts – trying to keep him quiet during the recuperation.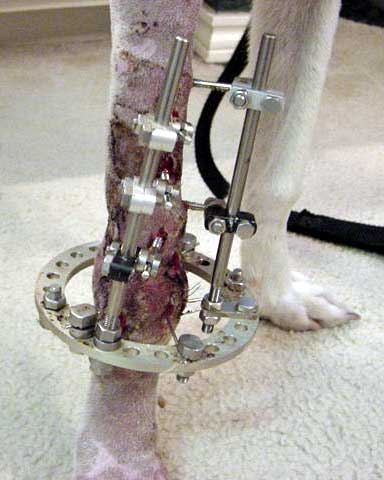 Speedy's fighting spirit and loving nature makes his post-surgery care a breeze. He's confined to an exercise pen for most of the day as he's not allowed to romp and play for some 10-14 weeks while his external fixator is still in place. He walked out of the clinic using his leg and hasn't looked back. He even tries to run at times, which is not allowed since he's on a leash every moment he's out of the exercise pen. But after he does his business outside, he always gets excited and tries to run in the house! Silly, wonderful little guy!

Speedy's Foster Parents
Update 8/11/04
Speedy has found his forever home with his foster family! From Stephanie and Chris, Speedy's new mom and dad:
Speedy has adopted us, and we couldn't be happier. He continues to be a remarkable dog with a fantastic personality. He's 100% goofy, which fits right in with the rest of us. We can't wait to see him run and jump and play with his siblings after he's given a clean bill of health by his doctor.

Speedy's leg has progressed extremely well--too well sometimes. He is so eager to play with his siblings that he just can't stand it! He tests the limits of his leash on his potty walks every single time we go outside. Hopefully he'll get his external fixator off when he goes back to the doctor on August 19th for his 10-week post-surgery x-rays. Please check back for updates on this wonderful boy!