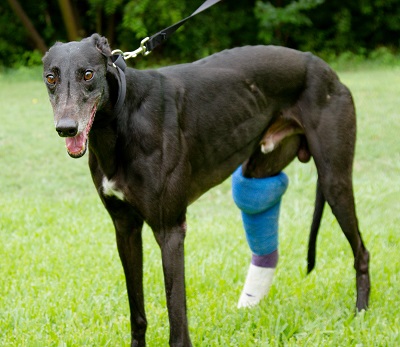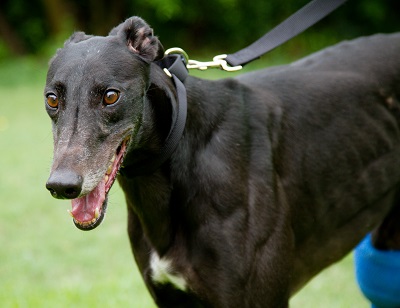 Sonny, aka K's Sonny, is a 3 year old black male born November 20, 2014. His sire is Pat C. Clement and his dam is Daisey Does It. Sonny has 38 races to his credit, starting on July 29, 2016, at Southland Greyhound Park in West Memphis, AR, to June 18, 2017, with a career ending injury to his right rear hock. Surgery was performed on Friday, June 23, 2017, by Dr. Bob Radasch of Dallas Veterinary Surgical Center. Sonny has fully recuperated and is ready to find his forever home! Sonny is considered to be cat and small dog tolerant.
UPDATE 6/23/2017
Sonny's surgery repaired a grade two fracture of his right central tarsal bone. Two screws were inserted, and he will be in a cast for 4-6 weeks with weekly bandage changes.
UPDATE 9/1/2017
Sonny went in for follow up x-rays with Dr. Radasch. Some movement was detected in the screws that were implanted; however no infection was indicated. Sonny is being kept very quiet with a minimum amount of activity in his foster home for the next 5 weeks when another x-ray will be scheduled.
Watch More of Sonny
Sonny is quite the cuddlebug! He likes to be near his person and is a great companion. He has a fabulous sense of humor, loves to play and make you laugh. He vocalizes often and kicks up a pack howl every time he hears a siren on TV or outside; he makes some really cute noises. Sonny crates easily in an ex-pen for 7-8 hours, but can be left out for up to 3 hours alone with no accidents. He's been building up the time he can spend out of the crate during the day. At night, Sonny stays on a dog bed in the bedroom with his people. Sonny loves other dogs and loves playing with children who are respectful of large dogs. This handsome guy is definitely trainable. He's food motivated, but not over-driven. He knows to lie down in his bed for a treat at bedtime. "Lay down" with hand, fingers outstretched, pushing downward in the air. He knows "Kennel Up" to get into his ex-pen. Using "Kennel Up" to get into car. Sonny is cat and small dog safe. His forever home would be complete with another dog or cat companions and plenty of people for him to love and who love him in return.

Sonny's Foster Parents
The special medical treatment cost needed by Sonny is why the Miss Mesa Fund was established. If you would like to help with Sonny's care, please take a moment to make a donation to the fund. You WILL and CAN make a difference in Sonny's life and the lives of other greyhounds in need of special medical care. Your help and support will make a difference - one greyhound at a time.
Through the GreytStore

DONATE

Through PayPal

By Check

Greyhound Adoption League of Texas
3400 Carlisle St, #310
Dallas, TX 75204

Please note Miss Mesa Fund/Sonny on your check.