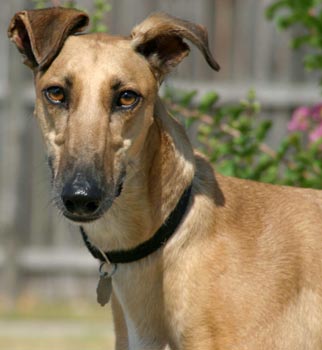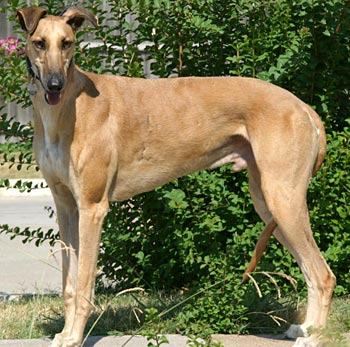 Slick is an approximately 2-year-old red fawn male, not tattooed, trapped by GALT volunteers after an intense 17 days of trying to capture him in an east Ft. Worth neighborhood. Slick, along with Carter, was captured finally on the night of October 30. Remarkably, Slick is heartworm negative, and completed all his medical procedures on November 9.
It is official – Slick should not be in a forever home with a cat. He tried to live in a foster home with a cat, but the cat never came out. However, he knew she was there and Slick constantly looked for her. He was then tested with one of the GALT testers and his interest could not be diverted. Sweet boy that he is, he'll need to be with dogs only – not sure about the small ones yet.
Having completed his routine medical procedures, Slick is back at "home" with us. We are again reminded of what a stunning dog he is. His coat is a shiny dark red fawn, with eye liner most women would pay good money for. This is a real "people" dog. He now approaches us for some loving, and will stay as long as we are available. Then he'll follow us for more. Those soulful eyes are impossible to resist. Lately he has taken to slathering us with kisses.

We continue to be amazed at what a forgiving and loving hound Slick is. So much in his environment still seems to momentarily threaten him - hangers, ceiling fans, mops, rapid hand movements - yet he still approaches and loves and nudges and leans. He is now so relaxed that he often sleeps in a cockroach position, on his back with legs up in the air. He is very playful and mischievous. He loves to chew on rawhides, and he carries and tosses squeaky toys. Slick seems to have a touch of interior decorator in him as toys and bones are moved from room to room. He also loves to shred paper. Shredding seems to be a preferred activity of his, although he has not chewed on furniture.

Slick so appreciates his meals, although a few finishing school lessons in neatness wouldn't hurt. He is a slow, methodical eater who is not food aggressive. Whether it was his time as a stray, or his former life, he is just learning to take treats from our hands. A piece of dried bread or roll is his preferred treat. He is just learning about the delights of peanut butter. For sure, Slick is settling in nicely in the role of spoiled couch potato hound.

When we were trying to capture Slick, most of us would sit in the car, watching him and silently sending him a prayer to let him know that permitting himself to be captured would be the best thing he could ever do for himself. Now that he is in a foster home and on the road toward a loving forever home, we confidently remind him, as he is receiving tummy rubs and asking for more, that his life will only get better.

Slick's Foster Mom
Slick's Foster Mom tells the story of his rescue:
It has become almost trite to quote the phrase: "it takes a village;" yet, that is precisely what it took to successfully capture two stray greyhounds, now Carter and Slick, wandering in east Fort Worth.

In early October, Jamie and Mark Brunner spotted the two strays. Being serious dog caregivers (Jamie is on the board of Great Dane Rescue) they contacted Greyhound Adoption League of Texas.

Then the real fun began.

The GALT live trap was secured, and Kelly Craven began rounding up GALT volunteers to bait and watch the trap. Incredibly, on the first night, Carter (named for the street on which he was trapped) was hungry enough to spring the trap. Even as we rejoiced, we ached to capture the other and to know he was safe. Carter, as it turned out, had an old healed fracture, and had a recent rear foot injury, where the foot had been caught in some sort of trap. He is heartworm positive as well as positive for Ehrlichia. Nevertheless, medicine in tow, he immediately settled comfortably into an injured reserve foster home.

Then came the test of patience and endurance, not for the uncaptured greyhound, but for his benefactors. Within several days he had acquired the name "Slick" suggested off-handedly by one of the volunteer rescuers who casually remarked about how sly and slick he was in approaching the trap.

Regularly, Slick warily circled the trap, trying valiantly to figure a way to remove the food without entering. Since we left the food for him when we left for the night, we assumed that at least he wasn't starving. There were many other critters of the night who were hungry too, however.

Night after night volunteers took turns baiting and watching the trap, hoping that not too many cars would drive by since their bright lights would scare Slick off. The first night, in fact, if it had not been for the 3 police cars that drove up to investigate the folks sitting in their cars, the volunteers firmly believed he might have been trapped then.

Slick seemed to have an excellent knowledge of the neighborhood, seemed to be watching the GALT volunteers, and seemed to have an uncanny ability to show up hourly. Precisely because he was so predictable, when he failed to show up for 2 nights, volunteers became alarmed.

Emails sent to "reply all" abounded, with volunteers desperately trying to devise ways of tempting Slick, or of notifying neighbors. With Halloween rapidly approaching, fears for Slick's safety became paramount. Volunteers began searching the neighborhood during the day so that they could talk with neighborhood residents.

In the end, maybe it was because Slick had gotten a little extra hungry, or maybe it was the allure of cat food, but, amazingly, Slick just took that one extra step far enough into the trap to trigger the finely tuned mechanism.

He was frightened, and perhaps a bit mortified. When he was finally placed in the back of the car, he lay down and ate the rest of the cat food. He spent the night cozily sleeping in a crate, following a flea bath. He seemed more tired than hungry, but he also seemed to appreciate the warmth and security of a home.

Soon, we hope that he will appreciate that one of the wisest decisions he ever made was to trip the trap door mechanism. Now, following his checkup, he will be headed to the comfortable life of a spoiled greyhound in a forever home.

Without the dedicated efforts of these GALT volunteers, Slick would still be roaming the streets, or worse: Kelly Craven, Bud Sharp, Scott and Susan Hurst, Abbe Collins, Barbara and Andy Berner, Lin Grado, Deborah Gillis, Christy Geeslin, Darrin Guitreau, Anne Brown, Kathy Heffernan, Dawn Taylor, and Helen Manning.