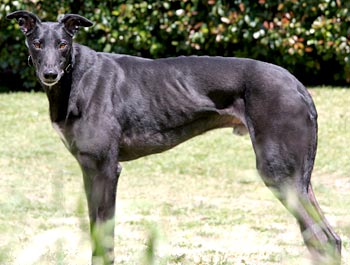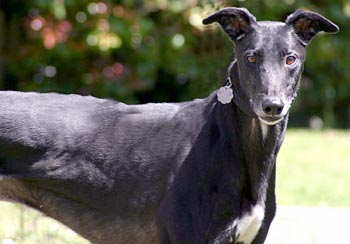 Show Boat is a handsome, 3½-year-old black male born May 26, 2005. His sire is Flying Penske and his dam is Moons Get Movin. Show Boat has 107 races to his credit on Greyhound-Data.org, starting January 10, 2007, at Valley Race Park in Harlingen, TX, moving to Dubuque when the season was over, returning to Valley on November 29, 2007, again back to Dubuque, and ending his career on February 6, 2009, at Valley Race Park with a fractured right central tarsal bone. He was moved by GALT volunteers on Tuesday, February 10, to Austin; evaluated by Dr. Stephanie Beardsley of Central Texas Veterinary Specialty Hospital, and surgery was performed on Wednesday February 11. His leg has now healed, and he is ready to find his forever home!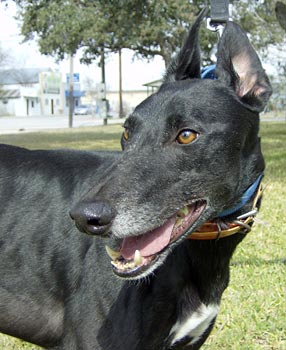 Show Boat's cat test: To see his initial interest, you'd think Showboat had never seen a cat before. He was quite curious, but looked away when the cat was out of reach. Those mule ears of his made him look even more interested. He got the chance to check them out some more and Lila and Domino both made it quite clear that they were the boss in this household. He couldn't get away fast enough. The cats are able to walk about the house and sleep on the floor now, and Showboat is content to keep his distance.
Jennel and I named him Ares when we adopted him. As it turns out, the name didn't fit him at all. Neither did his racing name, Show Boat. Ares was gentle, shy, and sweet. He should have been named Cuddlebug, or Muffin, or something like that. His foster mommy and daddy, Louise and Paul, had the best name for him: Shadow. He just wanted to stick to your side, be with his people all the time, and snuggle. He loved going to Half Price Books, because he thought it was The Petting Store.
We didn't "domesticate" dogs by somehow taming the species. Doggies chose to be domesticated, because they really love us, and enjoy being our friends. Best friends.
I wish I could have been as good a friend to Ares, as he's been to me.
Ares' Parents