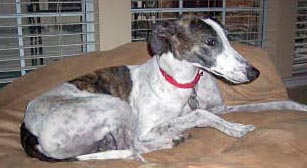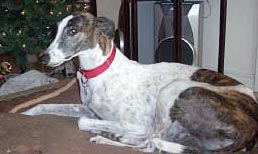 Shimmer, aka Smiley Shimmer, is a striking white-ticked brindle female, born April 22, 2001. Shimmer's sire is Gable Dodge, making her grand sire Wigwam Wag, and her dam is Smiley Sherrie, making her grand sire HB's Commander. Shimmer certainly lived up to her heritage with her racing career consisting of exactly 100 races prior to the end with a severe hock injury on December 3, 2004. She endured four months of recovery, and was adopted, but has now been returned to GALT because "her people" have divorced. At the time GALT previously had Shimmer, she was determined not to be small animal or cat tolerant. However, we will test her again to make sure.
She is a very happy and carefree girl that is also a big fan of the stuffie toys. She will squeak that toy until it begs for mercy. She loves the sound and gets very happy when she realizes that she is in fact in charge of the noisemaking!
Her potty habits are established, and she does well with a walk or two during the day. You would never know she had an injured leg.
Shimmer lives up to her name - she's a sparkling example of an affectionate, well-mannered, and good-natured little girl.

She comes from a broken home (parents divorced and neither could take her). You'd think being returned would traumatize Shimmer, but she blended right into our household and is very happy, seeming to know she's in a place where there are better things in store for her.

As mentioned above, Shimmer loves stuffies and carts them all over the house. She gets very excited about her walks and is excellent on leash. There's no evidence of any previous leg injury. She eats well (actually needs to put on a pound or two) and gets along great with our three big Greyhound boys. She comes when you call her name and is very affectionate. Guests who came to our home over the holidays were charmed by her personality - she was very friendly and outgoing with them.

This is one foster we could keep on a permanent basis because she's so easy to be around, but we know there's a home out there who needs another sweet, petite companion. Is it your home? If so, you'll be very lucky to make her a part of your family.

Shimmer's Foster Mom