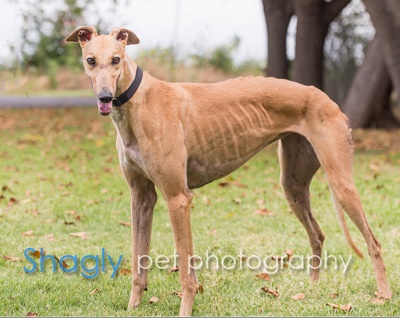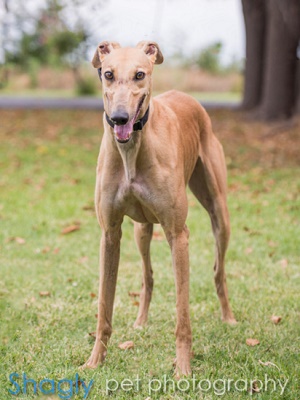 Shady, aka Rab's Shadow, is a 4-year-old fawn female born September 13, 2012. Her sire is Lonesome Cry and her dam is CDN Black I Suzy. Shady has 122 races on record in Florida from 2014 to 2016.
Shady passed her initial cat test, but has not lived in a home with cats yet.
More of Shady
Shady is a such a sweet laid back girl. She has a wonderful time playing with her other greyhound pals, as long as she can be the girl in charge! She has also done really well as an only dog. While we are away, we baby gate her off in a room with no issues. She has had no potty accidents since she's been with us.

She enjoys her daily playtime running around the backyard but after is happy to retreat to a comfy spot on the couch for most of the day. Soft floppy squeaky toys are also a favorite. She likes to play with her mouth open and may nibble on you but she does not bite down hard. If you say her 'give nibbles' she will lick your face & nibble your chin. She is tentatively curious about new things and is a quick learner. Shady recently conquered the stairs and was quite proud of herself!

She has the silkiest coat ever, even her bare belly is super soft. Her cute personality is expressed thru her funny ears and how she scrunches her nose around. Shady's very tolerant of being handled and has been good with our children (elementary age). She is eager to go along for car rides and does very well laying in the back.

She is looking forward to finding her forever home either as top dog or an only!

Shady's Foster Family
Shady was part of the Greyt 32 Arrival!