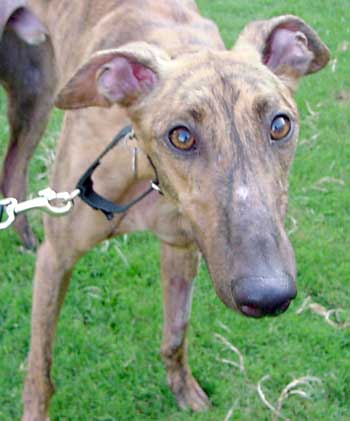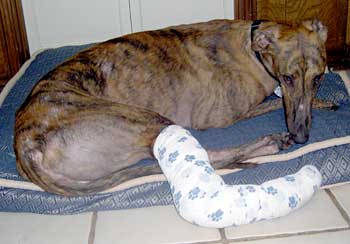 Sandler, aka Sandler Tyme, is a 2-year-old red brindle male, born May 15, 2003. His sire is Talentedmrripley and his dam is Jordon Jo. Sandler was turned into the Ft. Worth Animal Control with a grade IV central tarsal bone fracture with a collapse of the 4th tarsal bone on the right hock. Dr. Jeff Ellis initially examimed and x-rayed Sandler, and made an immediate referral to the Dallas Veterinary Surgical Center after wrapping his leg in a soft cast.
Dr. Bob Radash took Sandler into surgery on Tuesday, August 30 to repair the fracture. Two screws were used to stabilize and reduce the fracture to the central tarsal bone and to pull the 4th tarsal bone back into position. Dr. Radash says surgery went very well and he is optimistic that Sandler will have a good quality of life as a pet. Sandler's recovery will be a minimum of 8 weeks, with bandage changes every two weeks minimum. Sandler's racing career spanned 24 races, starting December 29, 2004, at Gulf Greyhound Park in La Marque, TX, and ended May 21, 2005 at Corpus Christi. His whereabouts since then till his arrival at the Ft. Worth Animal Control are unknown.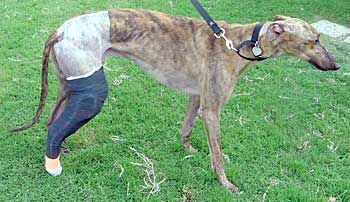 UPDATE 10/1/05
After Sandler's surgery, there were some complications. At first Dr. Radash thought maybe an external fixator would have to be used to immobilize the tarsus because of severe, ulcerated toe wounds. However, after staying several days at the Dallas Veterinary Surgical Center, the wounds that were abscessed showed improvement. He is requiring bi-weekly bandage changes due to the severity of the problem. Because of this setback, his recovery will be delayed several weeks at a minimum. Please keep Sandler in your thoughts.