Seniors are the best kept secret in the Greyhound World.
Please consider giving an older greyhound a special place in your heart!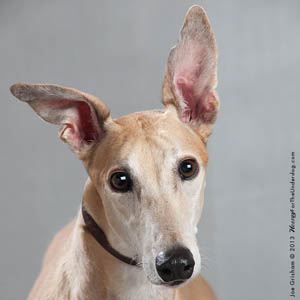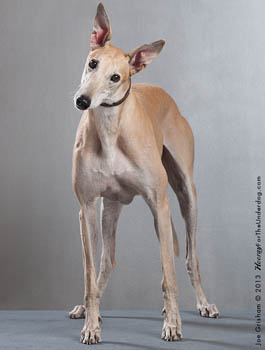 Sammy is an 11-year-old red fawn male. He is untattooed, but we were told when he arrived that he was born in June 2002. Sammy and Silvia are littermates! This sweet, big guy is ready for a home and family to call his own.
Sammy is not cat tolerant, and should not live with small dogs either.
It took Sammy about 2 weeks to leave his crate when I first got him...but now he has discovered the comforts of the dog pillows in the bedroom. He is one big loveable hound who enjoys his naps. He also will readily romp in the backyard with my other greys. He has a very calm temperament unless he sees a cat or a small dog which is a potential chasing opportunity. He has an extremely good appetite and is very food motivated. However, I have to limit treats because he is being fed low residue kibble for his digestive health.

Sammy is an older dog who likes to play like a young one and occasionally his big back legs don't quite keep up with his energy at the front. He is a huggable hound who just wants a forever home and who will give his forever family a great big boy to love!

Sammy's Foster Mom