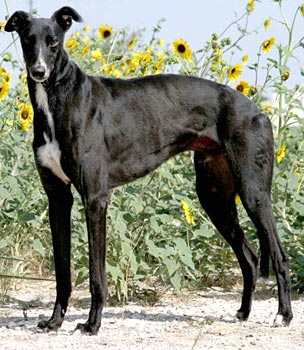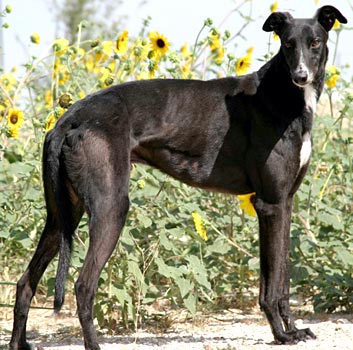 Sammy, aka RZ Sammy, is a very handsome 3½-year-old black male born November 14, 2004. His sire is Courageous Nicky, making his grandsire the late famous Molotov, and his dam is NXS Simply Red. Sammy bears the characteristic marking of Molotov with the white chest extending up his throat, making this boy one strikingly good-looking greyhound. Sammy's racing career started July 20, 2006, at Gulf Greyhound Park in La Marque, TX, staying there until November 4, 2006. After being in rehab for a shoulder injury, Sammy went on to race at the track in Birmingham, Alabama, ending his career in late 2007. Sammy is ready to find his forever home!
Sweet Sammy and the cats: Sammy did not seem the least bit interested in the cats. Molly, the brat cat, did not seem too concerned about Sammy either. Sammy got a couple of sniffs in and he was off to see what else he could find of interest. Sammy should be cat tolerant, but as always when introducing him to new cats always use a muzzle and caution. He will be tested with small dogs at a later time.
Sammy rode well in the car putting his face next to mine and standing behind me watching where we were going. He is a very sweet and cute guy.
From Sammy's foster family:
Sammy has been in our house for several weeks. Sammy is a very sweet, mellow, laid-back boy. This has been his first time in a house. Although it is a new experience, he is adjusting very well. He is really curious about various noises or objects, but he is not frightened. He is growing less insecure but still likes seeing what we're doing if we happen to go to a different room in the house.

Sammy loves to have ear rubbings and good pet-downs every day and goes with the flow of our busy household of 2 other greys, 2 cats, and 2 toddlers. Sammy has a cute little white patch on his chest and nose that are particularly good spots for rubdowns. He has his own "house" (aka crate) that he spends time in during the day. He also goes in there when he needs a nap after a tiring day. Other times, he enjoys sleeping in the room with the other greyhounds. He also likes helping his foster mom cook — he likes the smell of people food but is learning that not all people food is fair game for noble greys to feast on. However, he already knows all his other house manners and is potty-trained.

Sammy gets along great with the other greys in the house and has fun playing and chasing in the backyard. He could care less about the cats and barely acknowledges their presence in the house. He does walk pretty well on a leash, although he likes keeping up with the other dogs, so if they pull ahead, he also likes to keep up. Otherwise, he stays by my side. Sammy is a well-mannered boy who just loves to be loved!

Sammy's Foster Family