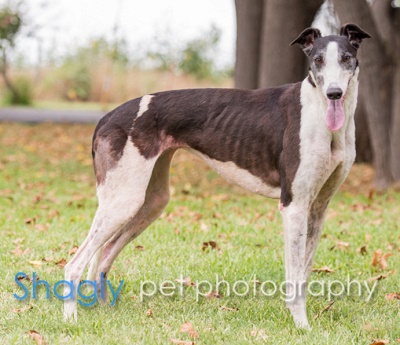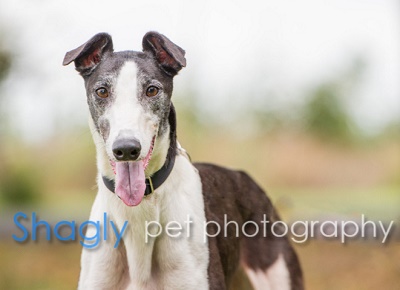 Sally, aka Dutch Sally, is a 4-year-old white and black female born May 4, 2012. Her sire is Djays Octane and her dam in Djays Take N Off. Sally has a whopping 155 races on record in Florida from 2013 to 2016.
Sally is not considered cat tolerant at this time.
Watch more of Sally
Sally was part of the Greyt 32 Arrival!
Sally is such a sweet girl! She is fully embracing retirement and is learning about the good life in a home. She is not very food motivated which allows us to free feed and keeps our counters safe. (No counter surfer here so far.) We are still working on house manners. She is a very smart girl, learns quickly and fully understands the word "no". She is crated at bedtime and when we go out. We have just begun leaving her uncrated for short errands and she has done beautifully. She is comfortable in her crate and does not cry at night. Even on the first night in the home she settled right down and went to sleep.

She loves stuffies and carries them around. She does not chew them up, she just plays with them. When we go for walks Sally gets very excited and starts to jump. She is also learning how to walk on a lead. She is so excited at the start of a walk that she just wants to dart ahead. We are working on controlling these behaviors. About half way through the walk she is much calmer.

She is definitely an alpha dog. Sally could do well as an only dog or with others that don't mind her alpha ways. She gets along great with our other grey who is pretty laid back but she is a little too interested in our neighbor's little shih tzu. Sally is more interested in being in the same room with her humans than hanging with our other grey. Our other grey is allowed on the furniture but Sally has no interest in that. She is perfectly content hanging out on her dog beds. She is very affectionate and loves to be loved on.

Do you need a Silly Sally in your life to brighten your days and be the center of her universe? If you have toys, comfortable beds, plenty of love to share and no kitties or small dogs, her world will be complete!

Sally's Foster Family