Seniors are the best kept secret in the Greyhound World.
Please consider giving an older greyhound a special place in your heart!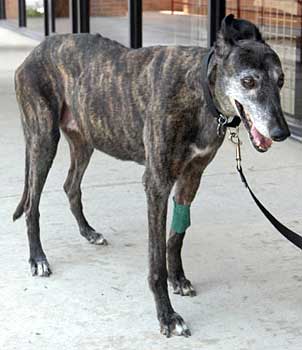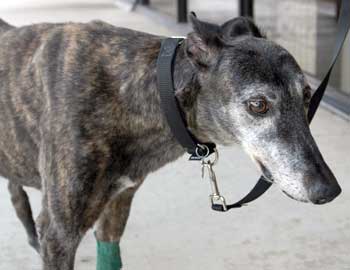 Sally, aka Solitary Glass, is a beautiful petite 12-year-old black brindle female born February 22, 1995. Her sire is Solitary Runner and her dam is Kim's Glass. Sally has been a brood matron, bred to Gable Dodge and OK for Real, and has had a total of 11 pups. She is mom to Samara (AZ US Molly Bee) and Polo (AZ Done Deal).
Sally came to GALT direct from the greyhound farm. When she arrived, she had a large tumor on her head that was approximately 10 ounces in weight. Dr. Ron Streid of VCA Tanglewood Animal Hospital removed the benign tumor, and as you see, Sally recovered just fine from the surgery. Her foster family is taking excellent care of her, and it is hoped her frailty will be stabilized in the weeks ahead. It is not known at this time if Sally is small animal or cat tolerant.