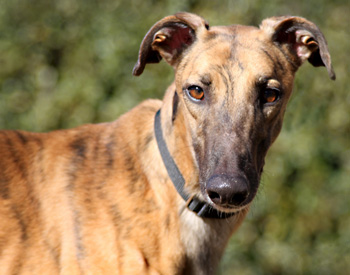 Salami, aka Gable Salami, is a handsome 3 ½-year-old red brindle male born February 23, 2008. His sire is Gable Oscar, making his grandsire the late famous Gable Dodge, and his dam is Bratwurst N Beer (GALT's own Samantha, making his grandsire the late famous Molotov. Luigi and Salami share the same sire but with different dams. Salami has four races to his credit - all at Gulf Greyhound Park in LaMarque, TX, starting November 14, 2009, and ending on December 11, 2009.
Because he was exhibiting chronic symptoms on January 15th, 2011, Salami had emergency surgery to remove a foreign material from his intestine and stomach by Dr. Doug Lange of the Dallas Veterinary Surgical Center. Salami's recovery has been very successful at a surgical cost of $3043.00. Dr. Lange says Salami is now fully recovered, and there should be absolutely no long term effects.
Salami is not cat or small dog tolerant.
My first impression when I saw Salami was his striking 5 o'clock shadow - he looks as if he might be in the mafia. But he definitely doesn't have an attitude - he is one happy camper.

He has the softest coat I have ever felt - truly like mink. I have tried asking him what type of shampoo he uses but so far his lips have been sealed. His two favorite activities are going for a walk and eating. When you even reach for the leash his enthusiasm erupts - it's as if we won the lottery or something. For being so excited, he is a very easy going walker and never pulls you around - my greyhound could learn from him! He has super sweet brown eyes and will follow you everywhere and often lay at your feet.

Reasons to Adopt Salami:

He is smart as a whip. His potty training is going very well, and you can see his mind working out how to earn another treat for good behavior.
Any and all kitchen spills will be cleaned up immediately.
Enthusiastic greetings every single time you walk in the door.
Last but not least, your house is safe - who would rob a mafia-looking guy's house???

Salami's Foster Dad