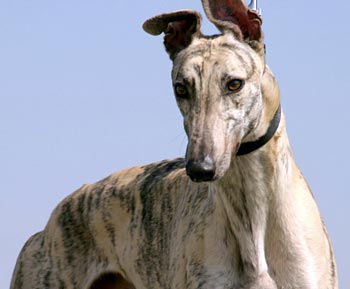 Roulette, aka LRC Roulette, is a 2-year-old light brindle male born April 18, 2006. His sire is Lonesome Cry, making his grand sire Gable Dodge, and his dam is Table Stakes. He is brother to Faro. Roulette has no races listed to his credit on Greyhound-Data. Roulette may be lacking a racing career, but his stunning good looks are exceptional. This is a great boy who is now ready to meet a family he can call his own.
Roulette's Introduction to Small Furry Things:
Today was Roulette's first meet and greet and he did very well. He totally ignored the small dogs that came into the store. After an afternoon of smoozing at the meet and greet, Roulette went to meet Dom, "The Cat". He was totally un-interested in The Cat. (He sniffed Dom's butt for about 2 seconds.) His muzzle was taken off after a few minutes, and still, absolutely no interest in the kitty. Roulette seems to be both cat and small dog trainable.
Roulette is great! He is a very sweet, nice, boy - one of the best fosters we've had. Of course, he is still two. He house-trained easily, and he gets along very well with the other Greyhounds in the household - he is not at all aggressive towards them, and they are not at all aggressive towards him.

Our next-door neighbors have a dachshund and a cocker spaniel, and when our gang goes nuts over at the fence when those two are outside, he doesn't seem to even notice them, so I would guess that he is small dog trainable, although he has not been officially "tested". I don't know how he would be around cats. He's mastered the dog door.

He is excited to see us when we come home, but generally, he quickly settles down and, like most greyhounds, simply likes to be in the same room with his people. He crates well at night. We've left him out of the crate some when we are gone, and there haven't been any problems. He likes to play with stuffies. He's got a cute run, and his ears are very cute, often folding forwards and/or pointing in different directions. Like most Greyhounds, he doesn't bark much.

Roulette's foster mom