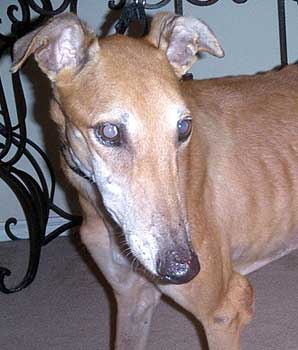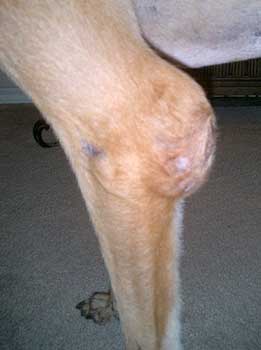 Romeo is a 7-year-old red fawn male, born October 1999. He has been double tattooed, so his identity will never be known. Romeo arrived with Tina and Blazer as part of a neglect case monitored by the Lamar County Animal Shelter in Paris. Romeo is in the worse shape of all – very, very thin and weak, a huge hygroma on his left elbow with a deep gash on his right shin...and heartworm positive. Results are negative for his tick testing from Protatek Reference Labs. However, his lymph nodes were extremely swollen upon his arrival; after several different treatments, a PCR test was done that indicates Romeo has small cell lymphoma. He is being referred to the Animal Diagnostic Clinic for further evaluation, and has an appointment October 30. The heartworm treatment will obviously wait at this point. Please keep him in your thoughts and prayers. It appears that Romeo is not cat tolerant, but we do not know how he will react to small dogs.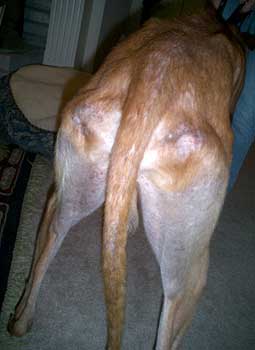 UPDATE 11/05/06
Romeo's appointment with the Animal Diagnostic Clinic gives further indication that he does suffer from small cell lymphoma. A biopsy of one of his lymph nodes will be performed on Monday, November 6, by Dr. Christy Soileau of Preston Park Animal Hospital. It will be several days before the biopsy results are known. Please continue to keep Romeo in your thoughts and prayers.
UPDATE 11/17/06
Romeo's biopsy has confirmed he has Lymphosarcoma. The consensus is to make Romeo as comfortable as possible for as long as possible. At this point, his heartworm-positive status is moot. Romeo's foster mom will give him the home he has never had for as long as it is viable.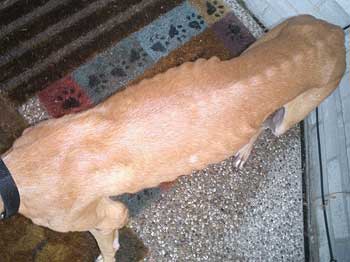 UPDATE 12/15/06
Romeo has developed several issues that indicate his lymphosarcoma is progressing. He is losing weight despite the increase in his food intake, and he has been started on prednisone in an effort to make him comfortable. Romeo will never know he is not in his "forever home" during these last days, as his foster mom is showering him with love and tender care. Please continue to keep Romeo in your thoughts and prayers.
UPDATE 1/15/07
Romeo's response to the prednisone has been very good. It has helped with his appetite, and he has put on a little bit of the weight he lost. Romeo does tire very easily, and his energy level is definitely diminishing. Thanks for keeping this sweet boy in your thoughts.
UPDATE 2/9/07
Romeo's past days have been a steady decline. The small cell lymphoma had been in remission with the prednisone, but has now returned with a vengeance. Romeo was released from his pain comforted by the loving presence of his foster mom and others who cared about him today. Run with the wind, sweet boy – God speed.