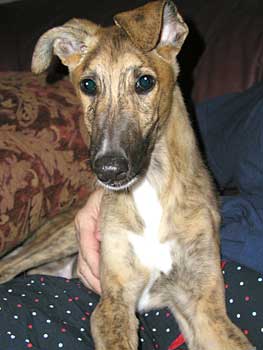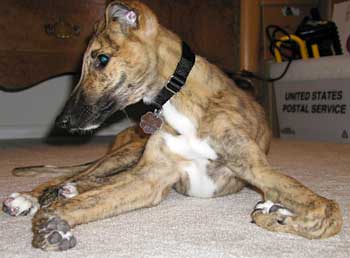 Roger is a three-month-old brindle male puppy born June 23, 2006. He was turned into a shelter in Oklahoma because he could not race. Roger is being evaluated by Dr. Jeff Ellis of VCA Preston Park Animal Hospital and Dr. Bob Radash of the Dallas Surgery Center at this time. Preliminary x-rays indicate his legs are the result of a congenital condition; however, further consultation and evaluation of his medical condition and x-rays will show more. Dr. Radash is out of town until Tuesday, October 10, 2006, and Roger has an appointment at that time.
However, since Roger has been in GALT's custody, he has not been able to keep food down on a consistent basis. He was tested for Parvo and was negative; the next test was for Megaesophagus, which a barium x-ray determined to be positive on October 4. He has received intravenous fluids in an effort to just stabilize him, which he has responded to. To read more about this congenital disease click here.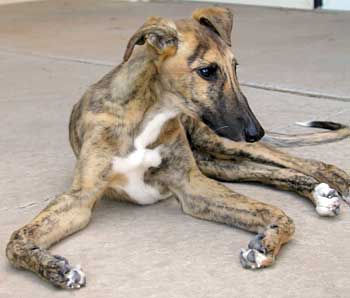 Roger has been sent to the Animal Diagnostic Clinic at the Veterinary Referral Center of North Texas Thursday morning, October 5, for immediate evaluation, as it appears this little guy has other serious problems in addition to the megaesophagus and congenital condition of his legs.
Please keep little Roger in your thoughts and prayers – he deserves a chance in this world.
---
Roger was with GALT only 5 days – but in those days he touched the hearts of all who met him.
Little Roger never had a chance to find his forever home, but he did experience rolling in the thick green grass at Leanne's house (a first for a pup from the farm), hundreds of kisses and being held in the arms of those who were fortunate to meet him. He left this world a better place, and we are all comforted by the fact that he is now running through the grass and meadows at the Rainbow Bridge. Those whose lives he touched, Nancy, and his foster mom and dad, Amy and Nadav, have wonderful happy memories of this one very, very special little greyhound boy...gone but always, always, in a special place in all our hearts.