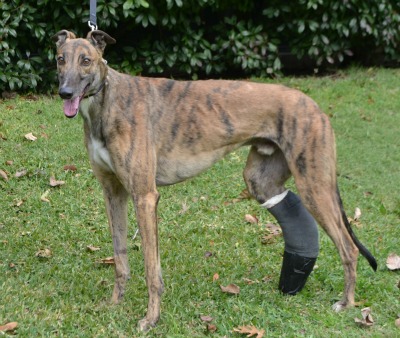 Ridge, aka Rainmaker, is a big brindle 2 1/2-year-old male born on May 17, 2013. His sire is RA Blazer and his dam is Boc's Fancynfree. Ridge has 26 races on record at Southland in 2015, but just broke his right rear leg during schooling. He had surgery to repair his leg on December 30th and will be kept quiet in his foster home during his convalescence. This is one big, tall boy!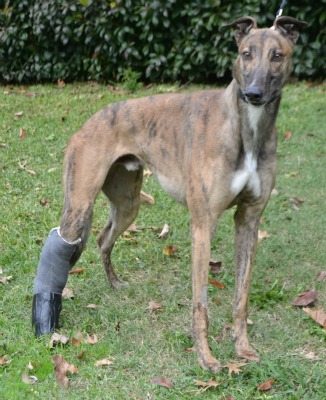 Ridge has not yet been tested with cats or other small animals.
UPDATE 1/12/16
Ridge is receiving weekly bandage changes and is being kept quiet in his foster home.
UPDATE 3/4/16
X-rays revealed a crack in the plate and one screw that was placed to stabilize his leg when surgery was performed in Abilene, KS, prior to his moving to GALT. He will be closely monitored to determine the next step, if any, and will be completing his medical procedures in the next 4 weeks.
UPDATE 4/15/16
Ridge has completed all his medical procedures, and x-rays reveal his fracture is healed. This boy is ready to find his forever home!