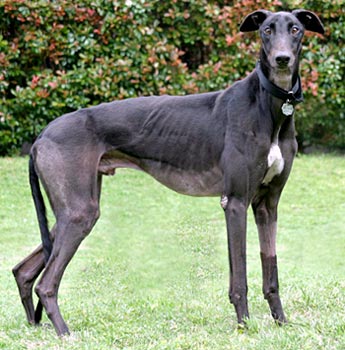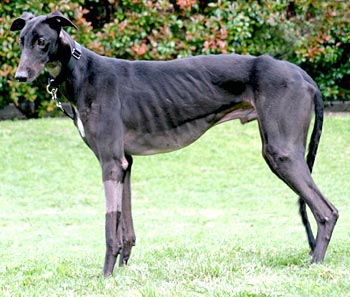 Rider, aka SP's Night Rider, is a handsome, 2½-year-old black male born November 2, 2005. His sire is SP's Storm Rider and his dam is SP's May Day, making his grand sire Wigwam Wag. Rider arrived into the GALT family at the close of the 2007-2008 Valley Race Park Season. His 21-race career started November 30, 2007, at VRP, and ended on April 4, 2008, at the same track. He is on the look for his forever family and couch.
Rider is somewhat reserved about his new life and is not sure about all of this, but hopefully in a foster home he will feel more assured.
Rider and the cat: Rider showed some interest in the cat, but when Molly hissed and swatted him, he wanted nothing else to do with her. He followed her down the hall, but when she stopped and looked at him, he could not be convinced to go by her. So Rider should be cat trainable. Remember to always use caution and a muzzle when introducing greyhounds and cats or small animals. Rider has now gone to a foster home with a cat and two smaller dogs.
Rider is a tall, dark, and handsome, 2½-year-old boy with a coat like black velvet. He gives big wiggles when we come home, plays with the toys for a little while, gets exhausted, and then is happy to relax on the dog bed resting close to us. Rider is adapting to an early retirement and quickly learning house etiquette – there have been no accidents; he's not interested in getting on the furniture; and is ready to go on a walk around the block. Counter and table surfing were easily discouraged with a few gentle spritzes from a spray bottle.

This sweet boy is the strong, quiet type - there has not been a whimper or a roo from him. Rider is food motivated. He gobbles up his meals and loves cookies, treats, and peanut butter! He's a very good eater and just needs to put a few more pounds on his lanky frame.

Rider is excellent with dogs that are 20 pounds or larger. He is very comfortable with his foster sisters – an older beagle and energetic cattle dog. He was very interested in a neighbor's Yorkie, but that was outside. He hasn't had the opportunity to visit with the Yorkie inside the house.

When Rider was tested with cats, it was very soon after he came to GALT. Now that he has been in a home for a while – and with cats – he is showing a little more interest in them. The cats stay in a "dog-free zone" most of the time, so maybe we should re-visit the cat issue a little later after Rider has a little more "house time" under his belt.

As is true for all greyhounds, he's a leaner and loves to be petted. Your hand will get tired of petting him long before he gets tired of receiving the love. Rider is an absolute sweetheart.

Rider's Foster Parents