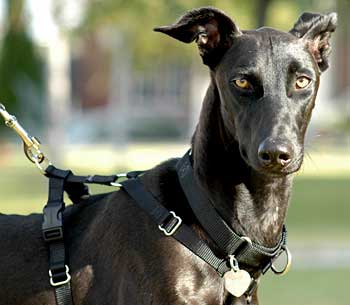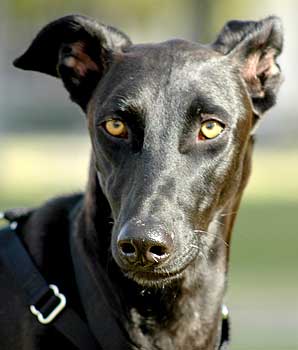 Ricardo will only be adopted to a home within the Dallas/Fort Worth area.
Ricardo is an almost 2-year-old handsome black male galgo, born January 3, 2004. He was found on the streets of Barcelona abandoned with no identification. After his rescue, a SOS volunteer was walking Ricardo one afternoon when she was confronted by a gypsy who claimed Ricardo was his galgo, and he wanted Ricardo back! Of course the volunteer refused, and it was a very tense time, as the gypsy said he would come "in the dead of night" and steal him. Needless to say Anna and Albert are very relieved to have Ricardo safe in GALT's family of greyhounds.
Ricardo is in a foster home with 4 other greyhounds, and gets along very well with all of them. He is quickly learning the rules of living in a home and is acclimating to life as a Texas galgo! His foster mom and dad will be sending information about Ricardo soon. Ricardo is currently in the process of completing his medical procedures. It is not known at this time if he is small animal or cat tolerant.
Ricardo is as handsome in person as he looks in these pictures. His eyes and big smile are truly spectacular. Along with his good looks comes a personality to match. Ricardo lives life to its fullest and every waking moment is an opportunity for some fun. He enjoys having playmates and is good with other dogs his size. Ricardo is hoping that his forever home comes with a willing companion. We walk Ricardo every day and it's very important that his new family understands his need to do so. Ricardo has a keen prey drive and he uses his walk time to satisfy his hunter instincts. We only simulate the hunt - no bunnies are harmed on our simulated hunts. You'll see what we mean when you take Ricardo for a walk. It's actually a lot of fun observing his hunting technique.

Ricardo is a very sweet-tempered boy; he likes to be petted and loves to snuggle with you. Ricardo likes to talk as well, not chatty but once in a while speaks his mind. Ricardo is fully house trained and he crates well. However, that doesn't mean he's not going to slip up every now and then. The only problem we have with him is that he sometimes does not distinguish his toys from his foster mom's shoes. Foster mom is working on securing her shoes in the closet so not to tempt his curiosity. Stuffy toys, tennis balls and Kong toys are some of his favorite play things…he will need a good supply of stuffy toys. Ricardo has a good appetite and usually cleans his bowl at each meal. He prefers to go for his walk before he eats his breakfast.

He's a bit more of a challenge than the average greyhound or galgo, but Ricardo is definitely worth the extra effort. We really love him for all that he gives us. Not an hour goes by spent with Ricardo that he doesn't make us feel good inside.

Ricardo's Foster Parents