Seniors are the best kept secret in the Greyhound World.
Please consider giving an older greyhound a special place in your heart!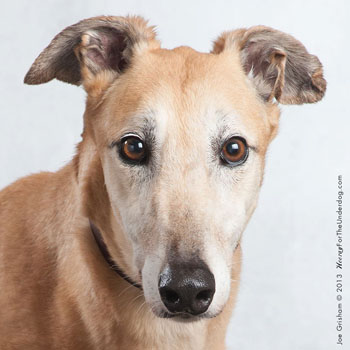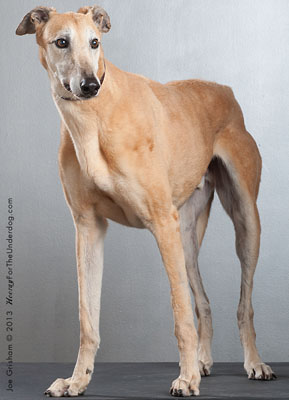 Pepsi, aka Pepsi Paws, is a 10-year-old red fawn male born April 29, 2003. His sire is Winky Dink and his dam is I'll Say She Can. Pepsi has 6 races to his credit on Greyhound-data.com, all at Valley Race Park in Texas in 2005. Pepsi is going to put some pep into finding a forever home!
Pepsi should not live with cats, but does well with small dogs.
Pepsi is a very sweet and quite a retired gentlemen. He is in no hurry to get up in the morning, because he sleeps so well at night. He has the run of the house during the day when we are at work, never bothering anything. He shares our house with our three other female greyhound girls and they all get along very well. He loves to be outside, always peering out the door or windows. He often is on the hunt for pesky squirrels and gives them a run for their money up a tree or a fence. He just recently learned to eat cookies from our hands and now he has learned about them he is quickly becoming very interested in them. He loves to follow you around from room to room, and if you are outside working, he will lie outside until you have finished your task (when our other younger girls have run inside because they are too tired or warm). Pepsi has the funniest fold over ears and the softest fur. When we brought him home, our girls flirted with him for the longest time!

If you are looking for a sweet, laid back boy (who is quite handsome to boot), that is dedicated to you and loving, Pepsi is your boy.

Pepsi's Foster Parents