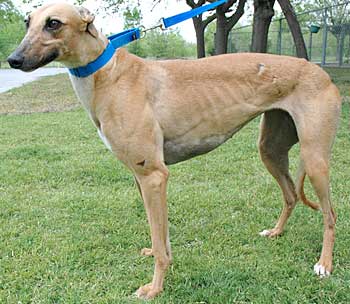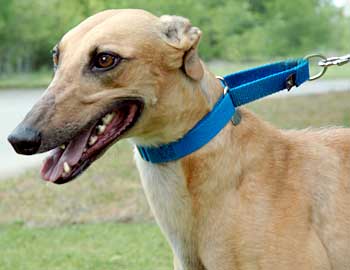 Pepper, aka Glimmer Pepper, is a beautiful red fawn 4½-year-old female, born November 5, 2000. Her sire is Gable Dodge, making her grand sire Wigwam Wag, and her dam is Green Pepper, making her grand sire HB's Commander. Pepper finished 125 races in her career, starting August 21, 2002 in Dubuque, Iowa, and finished her last race at Valley Race Park in Harlingen, TX on February 24, 2005. Pepper is very friendly and outgoing. Pepper is cat and small animal tolerant.
One look directly into Pepper's big brown eyes, and you'll be instantly drawn by her charm. The dark brown "eyeliner" she has sweeping out from her eyes makes her look like Cleopatra, but she knows her name is Pepper. She has perfect manners in the house; she does not countersurf, beg for food, chew, or lay on any furniture, other than her doggie bed. Sometimes she likes to rearrange the shoes in the closet, but she is gentle with them. She is housetrained and has had no accidents in our house. Although she previously found comfort in her crate, she now sleeps on her dog bed in our bedroom at night instead. She is still trying to learn how to walk well on a leash - she is so excited to go on a walk sometimes she zigzags or goes backwards to check things out instead of walking forward in a straight line.

Pepper has a happy, friendly, loving personality and enjoys attention. She knows a few commands, including "lay down" and is a quick learner. She gets along well with the two other greyhounds in our home and plays with them. However, she can be a bit bossy at times, especially when they are in her way. She could probably do well as an only dog. She is great with kids and kitties. She enjoys playing with squeaky toys, but prefers not to do the typical greyhound circle laps in the yard, unless she is chasing the other dogs. She would rather spend her retirement time with more mellow exercises like "doggie yoga". We have caught her in action several times on film (below) - she is very flexible!