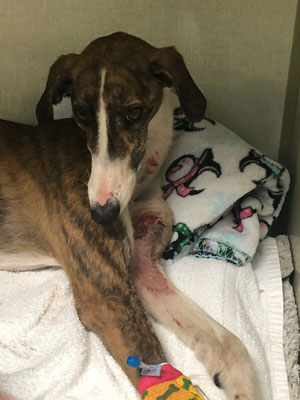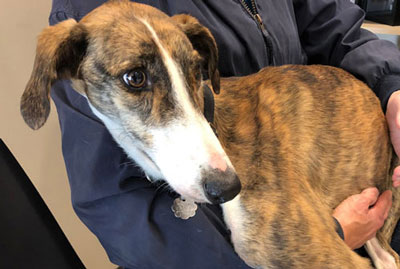 Penny, is an approximately 1 1/2 year old female brindle and white greyhound/saluki mix.
This is Penny's Story:
She was found by Samantha, her guardian angel, hunkered down on her patio chair on a very cold November night in the Mansfield area. Samantha immediately took her inside and discovered she had been shot in her left front leg, as well as she could not walk well with her right rear leg. Samantha called GALT from an emergency clinic in the Mansfield area to see if we could help Penny (named after Samantha's dear aunt). After taking care of all the EC bills, Samantha met Andy and Barb Berner to surrender Penny to GALT. Upon further examination at VCA PPAH, it was determined that there were numerous 22 caliber bullets found in Penny's left shoulder and leg. After consultation with DVSC, it was decided this leg should be amputated. Penny also suffered from an injury to her left rear leg that required a FHO, which was performed by DVSC 8 weeks after the amputation.
She has made it through ALL of these procedures and is ready for her forever home! What a trooper this girl is.............and loves just being alive!
Penny should not live with cats, nor small dogs.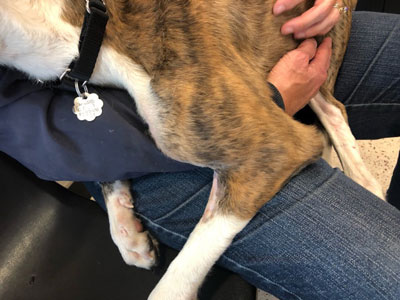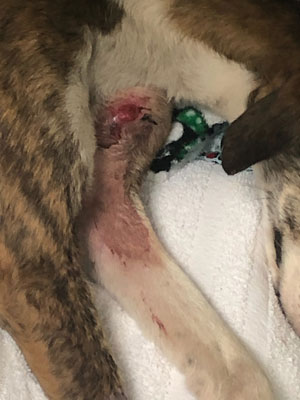 Penny, aka Penny Precious or Wonder Woman, is a champion survivor. She is the example of what love can accomplish even after enduring the most horrific of experiences. Having been shot and kicked, lost one leg and then had surgery to repair another leg, Penny is now finally enjoying long (mile) walks with her pack; running free on fenced property; exploring toys; solving food puzzles; approaching for nuzzles with her people; sleeping on soft beds; and chomping on her favorite treats for which she now stands in line. She still exhibits some of her pre GALT behaviors, such as eating dirt or wanting to explore all the trash bags while on walks, or being afraid of loud noises, especially loud vehicles, or freezing at the sight of other people, especially men, that she spies while walking. Now, however, she also enjoys ear rubs and comes close on her own to get some snuggling. She greets us at the door with tail wags. She can be found exploring the toy boxes. Her favorite treat is a granulated rawhide stick for which she "smiles" broadly before grabbing it.

While she doesn't specifically need a yard, she LOVES the yard. She loves to lie outside and watch for birds and squirrels. She loves to sunbake too. We're guessing as she is an avid huntress and barks and growls at dogs behind fences, that she's likely not small dog safe.

She cries when any of her people leave. She cries if one of her pack leaves. She totally derives confidence from her pack and people, especially women, she knows.

Penny needs a patient reassuring home, most preferably with one or more large dogs. She loves running zoomies with the pack, and is likely the fastest among them. Just being around this survivor, watching her learn to trust, is pure joy.

Penny's Foster Parents
Watch more of Penny