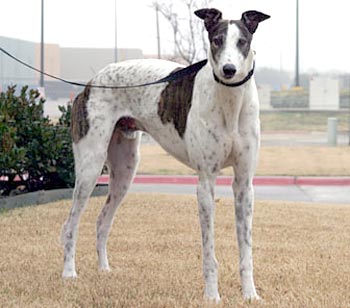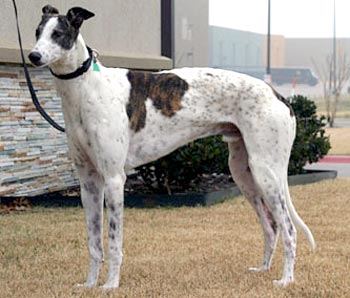 PeeWee, aka JG Whistler, is a handsome, 5-year-old, white & dark brindle male born March 18, 2003. His sire is Craigie Whistler, making his grand sire Molotov, and his dam is Flying Alpine, making his grand sire the famous Irish bred Tipp Ladd. PeeWee was found as a stray in east Texas by a kind woman who almost hit him on the highway. She picked him up and took him in, making sure his medical needs were taken care of. PeeWee's racing career consisted of 102 races all at Gulf Greyhound Park in La Marque, Texas, starting September 25, 2004, and ending August 31, 2006. His whereabouts since that last race until November 2007 are unknown. Because PeeWee lived with two Chihuahuas for the past 3 months, it is expected that he is small animal tolerant, but he is not cat tolerant.
Pee Wee's introduction to Molly the cat: We brought Peewee in and introduced him to Molly. Peewee's ears went up and his tail went out and he went straight after Molly. It was an interesting sight. When he got up to her he stamped his front feet like he was going to stomp her. Molly's ears went flat against her head and she growled, hissed, and swatted him good, but he did not really care. Molly was NOT happy at all about Peewee being in her home. Peewee is not cat tolerant.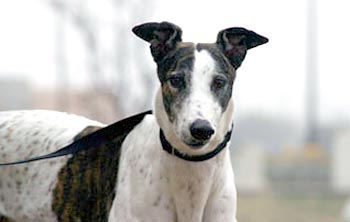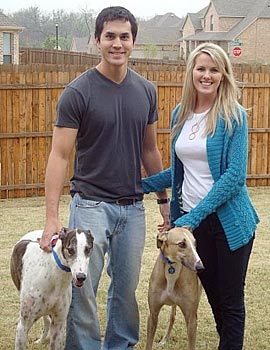 PeeWee (now Titus) and Gordon (now Tucker) with their mom and dad.