Seniors are the best kept secret in the Greyhound World.
Please consider giving an older greyhound a special place in your heart!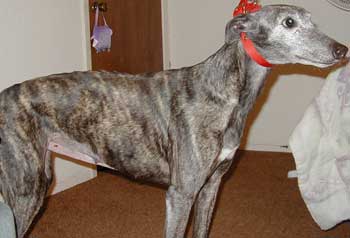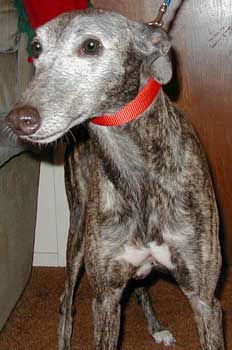 Pearl, aka Gable Pearl, is a gorgeous black brindle 10-year-old female, born December 2, 1995. Her sire is the famous Wigwam Wag and her dam is CJ Ima Bahama, making her full brother the celebrated Gable Dodge. Greyhound-data.org has no races to Pearl's credit, but she has had 21 offspring, in four different litters, two with Ring Them Bells, one with Just for Fun, and one with DK's Prime Time, the latest being in January 2004. Her brooding days are OVER, and it is time for this girl to find her FOREVER home! If you are a fan of the senior greys, please consider Pearl - she is perfect in every way! It is not known at this time if she is small animal or cat tolerant.