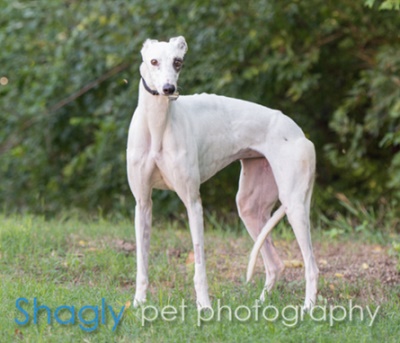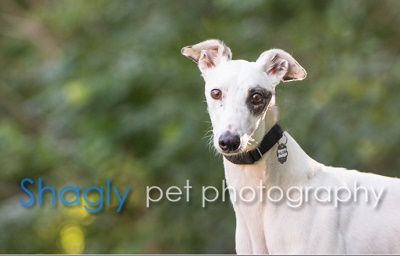 Paloma, aka Papua, is a 3-year-old white and brindle female born December 27, 2013. Her sire is RA Blazer and her dam is Poor White Dog. Paloma has five races on record in Florida in 2016. Paloma was in a home for five months, but has returned to GALT due to no fault of her own. She has not been tested with cats or other small animals yet.
Watch more of Paloma
Paloma is the sweetest foster I have ever had. She is a bit shy, and each day she comes out of her shell a little more. She gets along really well with our pack and does play with them. Paloma loves her crate – she eats in there and the door stays open for her to come and go as she pleases. In the evenings she will come and sleep on the rug when we are hanging around the living room. At night she sleeps in her crate with the door open. Paloma quickly learned how to use a dog door and has never had an accident in the house. She doesn't seem to care about our neighbor's rat terriers. She's super easy going and is such a good girl. Paloma is a rooer…in the morning she will roo at me when I get up and again when I come home! Will this beautiful girl fill your home with the song of the greyhound?

Paloma's Foster Family
Paloma was part of the Greyt 32 Arrival!