Seniors are the best kept secret in the Greyhound World.
Please consider giving an older greyhound a special place in your heart!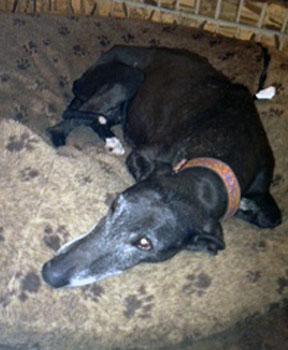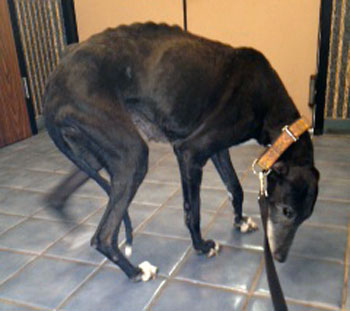 Nadine is an approximately 12-year-old black female who was found as a stray. She came to GALT via the Amarillo animal shelter. She is weak, and her condition is being evaluated.
Nadine is cat trainable.
Nadine's Story so far as told by her foster mom:
GALT received a call late Wednesday evening from the Amarillo shelter concerning an older, very thin female greyhound they had just picked up as a stray. So on Thursday morning, Nadine, who was barely able to stand much less walk, left the shelter in the arms of a GALT volunteer. Her first stop was AMC for an initial examination and very much appreciated nail trim. Positive to erlichia and anaplasia, dehydrated and very thin at 53 pounds, 12 year old Nadine laid quietly and calmly for subcutaneous fluids. Her Protatek test results are pending at this time. It was clear that she had been infested with ticks and fleas. The hour long trip to her foster home was spent curled up in a tight ball and sleeping. No fear, just exhaustion. She met our pack of nine with no issues. I can't express how weak this girl is - a few good meals will hopefully give her strength. Nadine slept in a slumberball and enjoyed small meals and treats for most of the evening. Her few remaining teeth are worn or broken down to stubs. We took turns sitting next to her and petting her. I cleaned her tattered ears, wiped her matted eyes and searched her scarred thin body for parasites. It is very apparent that this girl has had many litters. Trips outside to potty are heartbreaking to watch as Nadine struggles to walk. When approached the white tip of her tail gives a small wag and her tired eyes a huge thank you. We tucked this precious, tiny, dirty black 12 year old girl with a white blaze chest and toe socks into bed for the night. The next morning Nadine had to be gently lifted up to stand but with encouragement she slowly wobbled outside to potty. Once inside again she chose the first slumberball she found to rest. She asks for nothing and appreciates everything. She tolerated her bath and enjoyed sleeping most of her second day here. Nadine is gaining a little strength and enjoys her meals and treats. Sleep is still her number one past time. Day three, initial cat test shows Nadine to be cat trainable. But seeing the cat was the only motivation she needed to stand on her own. She showed interest but was easily distracted so we will continue working with her.
UPDATE 5/31/13
Nadine's medical evaluation by Dr. Wick Culp and Dr. Dai McWhorter of Animal Medical Center in Amarillo reveals that she is heartworm negative but positive to Ehrlichia Canis. She is being treated for this tick borne disease and seems to be getting stronger each day.
UPDATE 9/12/13
Nadine has successfully completed her treatment for Ehrlichia, has completed her other medical procedures, and is ready for her forever home!