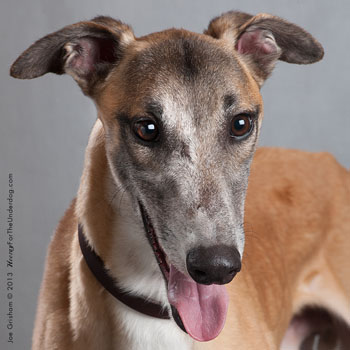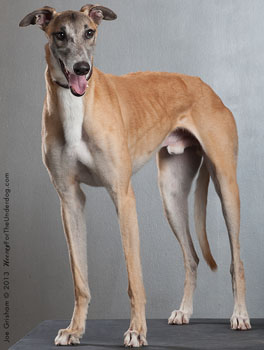 Money, aka CTW Workingclass, is a 3-year-old red fawn male born June 21, 2010. His sire is the late, great Dodgem By Design, and his dam is CTW Make It Work. Money has 45 races to his credit on Greyhound-data.com, starting at the Tri-State track on December 31, 2011, and finishing at Wheeling Downs on November 9, 2012. Money is sure to be a real asset in a forever home!
Money passed an initial cat test and is living in a foster home with cats. He is currently undergoing treatment for corns on the bottom of his pads with Dr. Dennis Crow of the Animal Dermatology Referral Clinic. He is taking daily medication as well as periodic hulling of the corns. It is hopeful that the corns will subside in time. Money is also being treated for a persistent toe infection.
UPDATE 7/1/13
Money has developed blisters on 3 of his feet as well as the corns, which are being addressed with Dr. Crow. Several laboratory and bloodwork tests are revealing nothing at this time. Dr Crow has started a new round of antibiotics, along with the Interferon for his corns.
UPDATE 8/1/13
Some improvement is being seen with the blisters, which were biopsied as best they could be.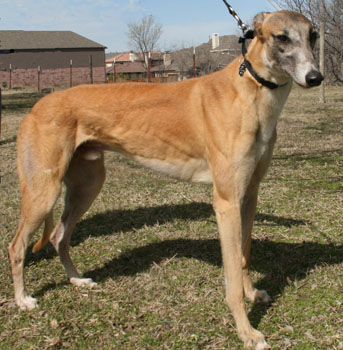 UPDATE 8/20/13
Money was seen by Dr. Dennis Crow, and he is progressing very, very well on his medication. He will be monitored 30 more days and if all continues to go well, he will be released from Dr. Crow's care.
UPDATE 9/23/13
Per Dr. Crow of the Animal Dermatology Referral Clinic: "After following Money's condition and reviewing in a retrospective fashion, it is our opinion that the original footpad lesions were associated with a small vessel vasculitis. Many potential triggering factors for vasculitis exist. It appears that the vasculitis is resolved at this time. We cannot support concurrent 'corns/plantar papillomas' at this time." It has been a month since his last check up and there are no further indications of any problems. Dr. Crow has released him. Money is ready to find his forever home!