Seniors are the best kept secret in the Greyhound World.
Please consider giving an older greyhound a special place in your heart!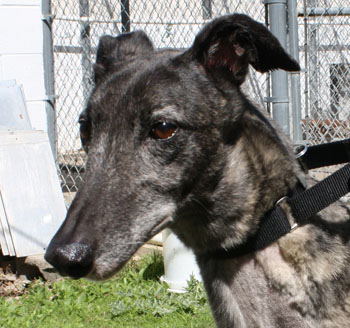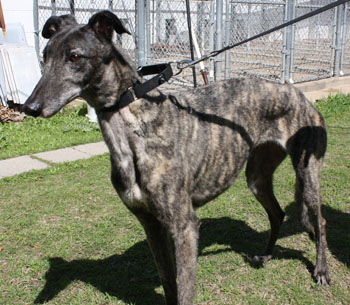 Molly, aka Ubetmiraclemolly, is a 10-year-old dark brindle female born March 7, 2003. Her sire is the late, great Gable Dodge and her dam is HT Hairy Mary. Molly has no races to her credit on Greyhound-data.com. Come serenade her with your best rendition of Good Golly Miss Molly! Molly has not yet been tested with cats or other small animals.
Molly is being evaluated for a persistent limp in her left front leg.
UPDATE 5/31/13
Molly's limp has been diagnosed as osteosarcoma in her left front leg by Dr. Jeff Ellis of VCA Preston Park Animal Hospital. Molly is being kept comfortable with pain medications at this time in her loving foster home