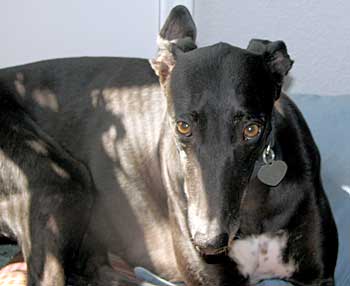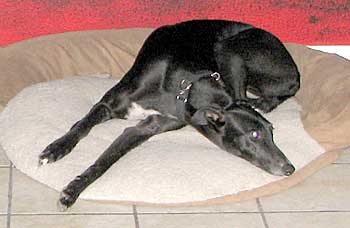 Misty, aka C's Hottie, is a lovely 4-year-old black female, born September 9, 2001. Her sire is Flying Train and her dam is Jimbo Ego. Misty was found, like so many of GALT's greyhounds, as a stray in a most unusual rescue. Misty shows 6 races for her racing career, starting September 4, 2003 at Tri State track in Cross Lanes, WV and finishing October 20, 2003. Her whereabouts from September 4, 2003 to when she was found on August 6, 2005, is a mystery. Misty is not cat or small animal tolerant.
GALT received a phone call on August 4 from a Fed Ex carrier who had seen a black greyhound for almost two weeks as he stopped to eat his lunch at a rest area near Henrietta, Texas. Two GALT volunteers, Suzanne Burke and Shawn Fernandez, drove up to Henrietta on Saturday, August 6 with the anticipation of catching her and bringing her back to Dallas...and that is exactly what they did!
Misty's Rescue Story and Picture from Her Arrival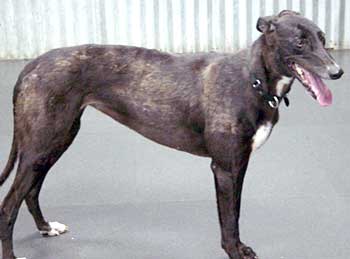 Suzanne said, "Shawn and I planned the adventure for Saturday morning. As we got closer to the rest stop, we realized it looked barren except for the big rigs that were parked there to catch some rest. As Shawn (with his camera) and I got out of our SUV (with food in hand) we saw nothing. It was reported that she would be at the picnic tables (where the trash is). We saw a clump of trees and decided to walk over that way and looked around, seeing nothing.
"I then whistled and out Misty came, grinning from ear to ear, covered in fleas and so many ticks, ferociously wagging her tail. She was so hungry, that she ripped the plastic bag out of my hand containing sausage and cheese and just chomped down eating through the plastic. This gave me time to put on the leash to her existing collar. We then fed her cooked turkey and brown rice, which she lapped up. Next it was into the car for some water and the ride back to Dallas. Misty is so friendly. She was just waiting for someone to come rescue her."
Miracusously Misty is not heartworm positive! She has completed her medical procedures and is in her foster home.
Misty is a black female, with white paws, chest and stomach. She is about average size for a female grey and is very muscular. She was a tick-ridden, shaggy girl when GALT picked her up as a stray on the highway, but with some time in a good foster home, with good nutrition, her coat is improving and she is looking really good and is very happy.

She has good dog manners while her humans are eating. She'll just lay down somewhere close to her foster brother, the Golden Retriever. As long as she can see her people, she is fine.

Misty is a good girl, almost fully house trained, she likes the doggie door and has had few accidents. She knows when to go out and take care of business. She thinks that furniture is for humans, and thus stays off and prefers to lounge on a doggie bed.

Misty is an eager walker; in fact, she is so eager, that she will pull a bit at first, but then quickly settles in for a good walk and stays right by the side of foster mom. One of the highlights of the walk is seeing bunny rabbits. She is very interested in small animals, so a firm grip on the leash is recommended. Misty may be cat tolerant with some training, but would be best in a home without cats or other small animals.

As Misty is a very happy, rambunctious girl, she would probably be best in a household with older (8 or above) children. She seems to like all people; men, women... well, nobody is a stranger in Misty's book.

Misty is comfortable and feels very safe in her crate. At night, she sleeps in the main bedroom, in her crate, upside-down (which is quite cute!), with the door open. During the night she has access to the doggie door and will use it when the need arises. When she is finished, she comes right back and goes to sleep in the crate again. She even eats her meals in her crate, and all you need is a "Misty, crate" command and in she goes. While she eats, the door can be left open; she won't leave until the food is gone.

If the girl likes her food and treats, she LOVES her peanut butter. Even toenail cutting is easy with a peanut butter-filled Kong to distract her. She does great! Misty will accept her baths, although she tends to "freeze" up. However, foster mom knows the trick to loosen her up, it is called the Zoom Groom; Misty just cannot get enough of it.

She likes adventures, and will happily go along on car rides, staring out the front window to see everything that passes by. Misty is a hoot to watch as she loves to pounce on her squeaky toys. Maybe she was a cat in a past life - who knows? She also likes to spend time chewing on Nylabones. And although running after balls with the Golden is fun, retrieving is not quite that exciting, and thus she will leave that for somebody else, preferably the true Retriever of the house.

Misty is a very friendly girl and nothing is better than when foster mom and dad come home from work. She will be beside herself with excitement - not to mention when company comes. Again, she knows no strangers, so company means fun!

She is a lovable girl who also likes time to herself. She was very quick to adjust to the house, to her foster family, to the crate, and the doggie door. The only thing that seemed to scare her were the ceiling fans when they were running. She has moments when she looks up but this doesn't bother her so now.

Misty spends most of her day sleeping a deep beauty sleep in her crate with the door closed. Like most greyhounds, she would enjoy another medium-sized dog companion in her forever home, as she loves playtime with her foster brother. She is a super fast learner, and quickly grasps the do's and don'ts of the household.

Misty has the most wonderful smile; it will light up a room. She will give you her biggest smile when you come home after work or if she is about to greet new people. Add to that, she is a very good kisser! Misty's background is unknown, but it is obvious that she loves her new life. Misty is one of the happiest greyhounds around!

Misty's Foster Family