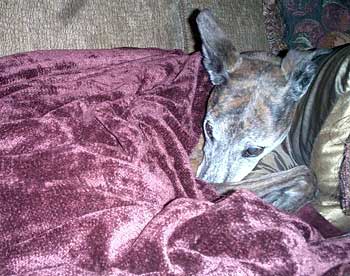 Missy Moo was GALT greyhound #579 for only 6 hours on this earth. She will never be forgotten.
GALT received an email from Dagmar, GALT foster mom, volunteer and supporter, at 4:00pm on Tuesday, November 8, about an older female greyhound at the Mesquite shelter. This greyhound had been picked up on Monday, November 7 as a stray in Mesquite. A call was placed to GALT's volunteer and shelter coordinator, Kristin Fields immediately, and "Missy Moo" (as she was to be named later) was picked up by a Lab rescue volunteer before 6pm that day. She then met Kristin who took "Missy Moo" to her home.
Here is Kristin's story written Wednesday, November 9:
Last night I picked up a sweet girl who had been at the Mesquite Shelter. The shelter released her early because she was extremely thin and weak. I fed her small amounts of food, but she couldn't keep anything down. Amy and Susie came over to check on her, and we got her to drink a little Pedialite – she was able to at least keep that in her tummy. We knew she was a sick girl, but she had a little wag in her tail that told us she might just be okay. At one point she even crawled onto the sofa to snuggle near me. I covered her with a blanket, and she slept for about an hour.

When I took her outside before bed, she fell. She was too weak to even stand. I carried her to her bed, and I sat with her for a while, stroking her and telling her what a special girl she was. Shortly after, Maverick and my foster, Leigh, came in and lay near her. I felt they knew what was about to happen. They sat there so peacefully - I guess I knew at that time what was about to happen. I decided then she needed a name before she left us – I named her "Missy Moo".

I don't know why Missy came to GALT and me, but I feel these things happen for a reason. I will never forget this little girl. It will be her memory that carries me forward to help all the greyhounds that need our help. I feel like I did all I could for her… I wish I could have done more, but I realize she was too far gone. And I am so grateful she was at least in a warm and loving home with all of us loving her in her final moments. She passed with dignity, with a name and a home…. She will always be my little girl.

Love your greys and give them a hug in Missy's memory. We have them for such a short time sometimes......it is just never long enough.