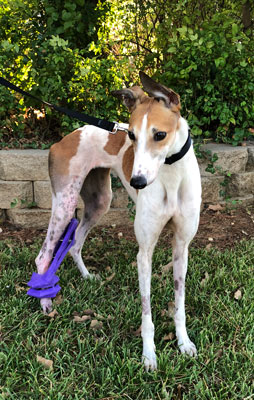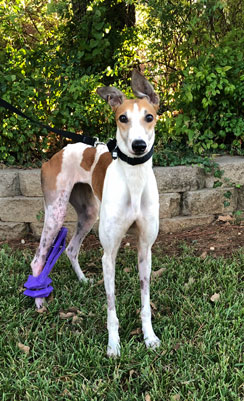 Marsha, aka Marsha Laroo, is a 3 1/2 year old white and red female born February 6, 2017. Her sire is DJay's Octane and her dam is Bob's Certified. Marsha has 79 races to her credit before she was injured. Marsha was transported to McKinney on Saturday, September 19, by Pilots N Paws. GALT is incredibly greytful to this wonderful organization for their generosity. Marsha arrived via a separate PNP transport earlier on Saturday. Marsha, Chance and Herb were all taken directly to DVSC to be evaluated by our orthopedic veterinarians. Marsha should not live with cats.
Update December 14, 2020:
Marsha's leg has healed and she is ready to find her forever home.