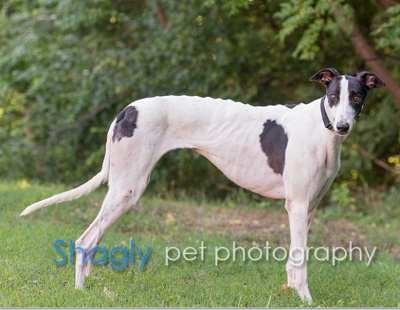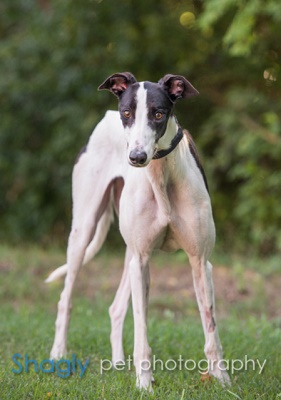 Marilyn, aka Blu Too Monroe, is a 3-year-old white and black female born June 25, 2014. Her sire is Tyrur Alex and her dam is Mulberry Satin. Marilyn has 29 races on record in Florida from 2015 to 2016.
Marilyn is not considered cat or small animal tolerant at this time.
Watch More of Marilyn
Marilyn is a beautiful, sweet, and playful dog. One activity she enjoys on a daily basis is carrying her favorite toy around in her mouth. She will not actually chew the toy, but just likes to carry them. Often she will stand at the door, with her stuffy in her mouth, wagging her tail so she can go play outside...so cute! She is not cat safe, but plays well with other dogs and is currently living with (and tolerating) a very high energy two year old greyhound sibling.

Marilyn can be somewhat reserved at first meeting, especially with some men. While it may take her a little time to settle into new surroundings, she's worth the wait and will warm up once she trusts you. She can be quite the roamer in a new home and will wander from room to room in order to sniff and explore. She likes having a schedule, loves meals, and enjoys attacking stuffies in the morning and running zoomies in the afternoon. While she isn't clingy or a cuddler, she does often find her way into the same room as her humans to gives kisses and get pet.

Marilyn is a bit sensitive to certain loud noises and is definitely not fond of fireworks. While she has ignored some severe storms this year, others have bothered her a bit. During these times, she happily shows herself to the comfort and security of her crate. Her ideal home would also have a crate for times of insecurity. She'd also enjoy the companionship of another dog.

Overall, Marilyn is a very easy-going and sweet hound. She will make a great companion for a family or household without kids. Marilyn can't wait to find her forever home!

Marilyn's Foster Family
Marilyn was part of the Greyt 32 Arrival!