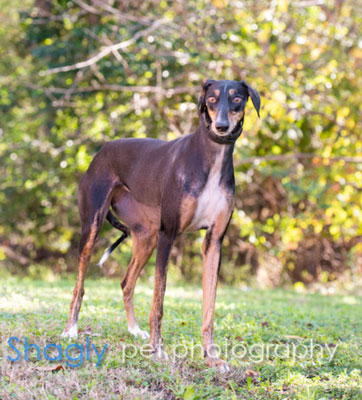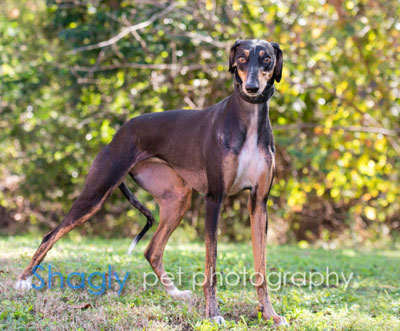 Lyza is an estimated 6.5 year old female black and tan greyhound/saluki mix. Lyza was found in Tulsa, OK, on the median of an extremely busy interstate. It is a miracle that she was caught unharmed by Tulsa Animal Control as she was very afraid and skittish. Lyza initially tested positive to Ehrlichia Canis. She has been successfully treated and this little girl is ready to find her forever home. It is not known at this time if Lyza is cat or small animal tolerant.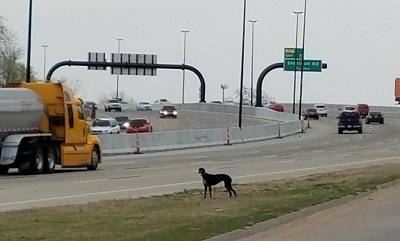 Watch more of Lyza
Lyza, aka Lil Itty-Bitty, is a petite beauty and so very observant. She's pretty apprehensive about new people, places and things though she LOVES to be part of a pack. Lyza cozies up to each of her housemates where she feels safest. Funny how it doesn't work the other way though, being close to another dog has to be her choice. How she came to be found on the side of a busy highway in Oklahoma is a mystery to us all and it's taking her a while to fully trust people. She is partial to women over men and is really a dog's dog. While we continue to work on Itty-Bitty's signals, she still has a few poop accidents even though she's been in a home for many months. Lyza can be a bit of a conundrum. She rides well in the car, walks beautifully on a leash with a delightful prance in her step and runs and plays in the yard with her dog pals. She has the biggest bark for a little girl and fiercely defends her yard against intruders. Lyza can become quite animated when she wants to come inside and will jump and bark at the door. Once indoors she will find the comfort of her favorite spot on the couch or chair. Around people Lyza is cautious and can be reclusive. It's important to challenge her comfort zone and engage her with a gentle touch. When she feels safe she sweetly turns around to get a good hip rub. It's so heartwarming when she settles in. She's a special little girl with a heart that really wants to trust. Lyza's ideal home will have multiple dog friends and very patient people who can continue to work on her confidence.

Lyza's Foster Family
The special medical treatment cost needed by Lyza is why the Miss Mesa Fund was established. If you would like to help with Lyza's care, please take a moment to make a donation to the fund. You WILL and CAN make a difference in Lyza's life and the lives of other greyhounds in need of special medical care. Your help and support will make a difference - one greyhound at a time.
Through the GreytStore

DONATE

Through PayPal

By Check

Greyhound Adoption League of Texas
3400 Carlisle St, #310
Dallas, TX 75204

Please note Miss Mesa Fund/Lyza on your check.