Seniors are the best kept secret in the Greyhound World.
Please consider giving an older greyhound a special place in your heart!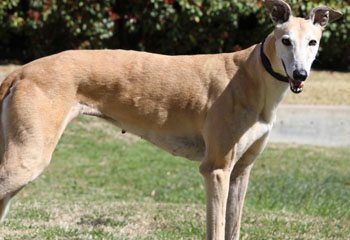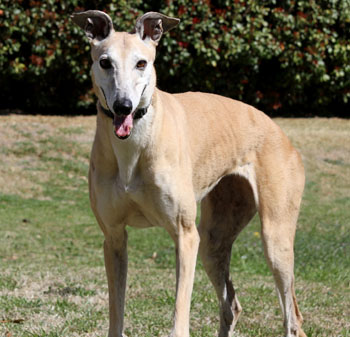 Loretta, aka Gable Loretta, is a 10-year-old red fawn female born February 24, 2001. Her sire is the late famous Gable Dodge, and her dam is Any Questions. Loretta has 168 races to her credit starting January 18, 2003, at Wheeling Downs, WV, moving to Gulf Greyhound Park inLaMarque, TX, and finishing her career on December 11, 2005, at Corpus Christi, TX. She was quite a racer during these years. Loretta was found as a stray, so her whereabouts since her retirement until now are unknown. What is known is that she was not cared for properly, as when she arrived to the GALT family she was heartworm positive and had a severe urinary tract infection. Treatment for the infection and heartworms was finally successfully completed - it took a total of nine months and three treatments to clear her of the heartworms! She is a sweet, friendly girl, who will astound you - she acts like a 2 year old. Loretta is in a foster home with another greyhound and gets along well with the whole family! Loretta is small animal and cat tolerant.