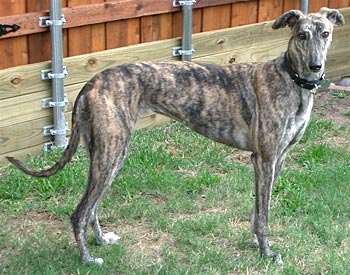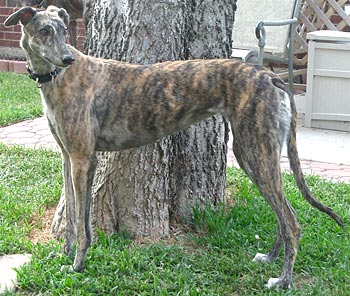 Lillie is a gorgeous, brindle 2½-year-old female born December 6, 2005. Lillie is the "A" pup, and the whole litter was not registered with the National Greyhound Association. Her sire is Dodgem by Design, making her grand sire the late famous Gable Dodge, and her dam is Lil Shon. Lillie was found as a stray by a very kind-hearted lady named Robin in the Alvarado, TX, area. Robin had seen and tried to capture Lille for almost two weeks prior to her actually coaxing her into her automobile. She finally accomplished this close to the Easter Holiday, hence the name Lillie! Lillie is cat trainable (the two cats in her foster home are helping her foster mom to train her). However, she has not been introduced to small dogs.
Lillie is a very sweet and loving girl although she is leery of new things and new people. Lillie looks like a regal lady with her narrow build and long legs. She is very affectionate and loves to be close to her people although she is not pushy and sometimes goes off to catch a nap in another room. Lillie loves to be hugged and petted. She is a very smart little girl and learns very quickly.

Lillie loves to eat and gobbles her food down - she cleans up any mess she makes and cleans up after anyone else that dropped any food on the floor too. Lillie has a very happy, calm personality and she likes to be close to people, curling up or "roaching" on a dog bed. She gets along with, the other dogs at our house and usually ignores the cats. Sometimes if she is on a dog bed and another dog gets close, she will give a warning growl for them to get away. Lillie will come running when you call her. She does not counter surf or get into anything. She knows to go outside to go potty but sometimes decides she does not want to. If she is pacing back and forth that is your queue that she needs to go outside whether she thinks she wants to or not. Lillie does not like to be crated. She can be easily lured in with the toss of a treat. She does not get into things if allowed the run of the house while you are away.

Lillie walks well on a leash. She likes to play with stuffed toys and empties the toy box daily. She tosses the toys in the air and chases them. It only takes a "No!" to get her to stop doing something that she should not be doing. She also responds well to a squirt bottle. She will need her family to be her leader, and set boundaries for her and make sure she knows that she is NOT in charge or she may take over and set her own boundaries.

She has very good house manners and wants to please (most of the time). At night she sleeps quietly on a dog bed in the bedroom. Lillie is enjoying being in a home, loving those soft dog beds and would love to have her own special forever home and family to love her. Lillie will need to have a medium to large size canine brother or sister to help her overcome her leeriness of new things and to be her companion (as long as they don?t bug her on her bed). If you?re looking for a very sweet, smart, and well-behaved girl, Lillie might be just the sweetie for you.

Lillie's Foster Mom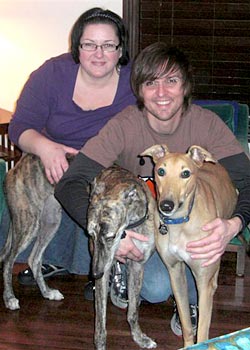 Lillie with her new family and her new fur-brother, GALT Greyhound, Mo.