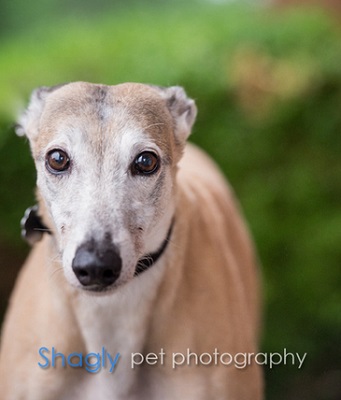 Lil, aka I'm Not Guilty, is a 9-year-old red fawn female born April 7, 2006. Her sire is Dodgem By Design and her dam is Deadly Conduct. She has no races on record on Greyhound-data.com. Lil was in a home for several years, but has been surrendered due to her owner's serious illness.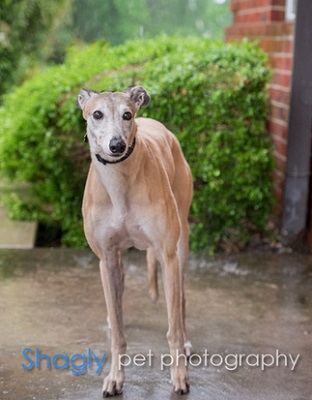 Lil needs a home without small children.
Lil has not yet been tested with cats or other small animals.
Lil is a sweet and funny greyhound. She is shy at first, but warms up quickly. She feels safe at home, so for Lil, home is where the heart is. She gets along fabulously with our other three greyhounds and loves to race them out the door to the very back of our yard. She really can pick up the speed, so you would never know she is 9 years young.

She can be quite silly! However, when you call her to come in, she's the first at the door. Her favorite time of the day is meal time. She jumps around and hops and is so delighted to be fed and she is a fantastic eater. You will need a good supply of small cookies for Lil because she is a little cookie monster! When you return from work, she will smother you with affection. She also sleeps like a champ throughout the night. She never has a potty accident in the house. When we are at work, she has free roam of the house and never bothers a thing. She is not a counter-surfer and does not get on the furniture. You can tell she came from a nourishing and loving home from her previous owner who became too ill to take care of her. Lil is truly one of the kindest and sweetest greyhounds we have ever fostered. She will certainly melt your heart.

Lil's Foster Family