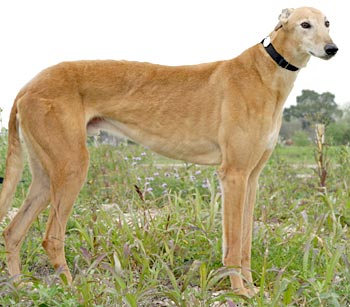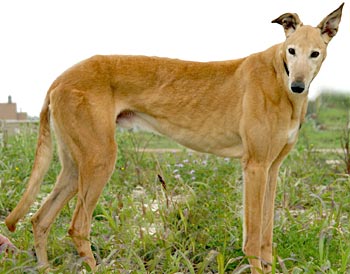 Lightning is an 8½-year-old red male born October 2000, with the most soulful brown eyes. His racing career consisted of 6 races, all in the state of Florida in 2002. He then went on to help other canines by being a blood donor. Lighting is ready to find his forever home, and it is about time - this guy has served others – he now needs to be helped!
Lightning's cat test: Lightning was a bit interested in the cats and was giving Pepper a good sniff, then he moved on to sniff Molly and she reared up and hissed and swatted him; that was enough for him to realize these little furry creatures were best left alone. He followed them down the hall, but when they stopped or turned to look at him he turned away. Lightning should be cat trainable, but when introducing him to new cats always use a muzzle and precaution.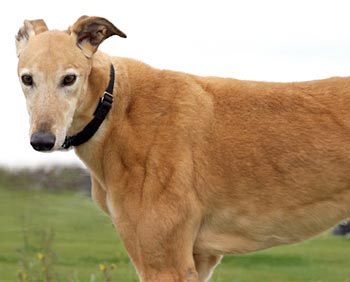 UPDATE 6/21/09
When Lightning did not eat Thursday morning, the foster parents knew something was wrong. He was taken to the Emergency Animal Clinic of Collin County about 6 that evening and was stabilized. Friday he was transported to VCA Preston Park Animal Hospital, where extensive tests began. X-rays of his lower GI and a barium x-ray of his upper GI indicated a foreign object was lodged at the base of his esophagus. Lightning was immediately transferred to North Texas Animal Emergency Pet Clinic, where he was scoped at once. Part of the object was removed, but the remaining part would not budge and damage to the esophageal tissue was necrotic. Lightning crossed the Rainbow Bridge at 7:20pm on June 20. Run with the wind, our dear Lightning. You will never be forgotten.