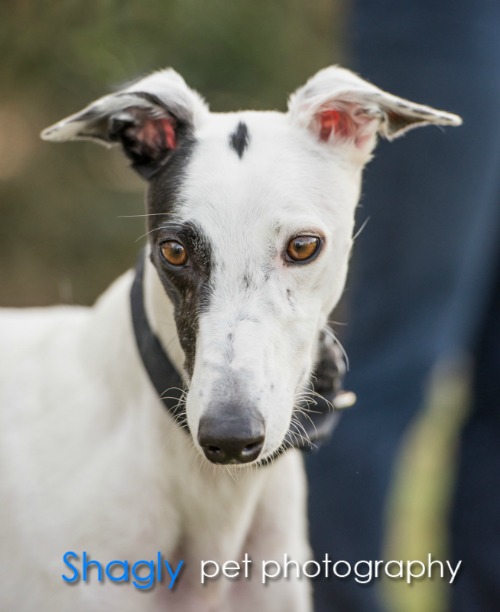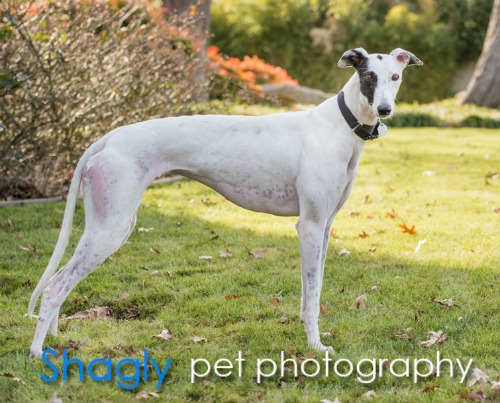 Latte is a 2 and a half year old white & black female born May 15, 2012. She was not individually registered with the NGA, but her sire is Super Lee and her dam is CTW Marguerite. Latte was at a schooling farm, but has not raced. She joined GALT when her owner could not pay the boarding fees at the farm. Latte, Mocha and Espressa are littermates.
Latte should not live with cats.
Latte was in a home for a year but has returned to GALT to resume her forever home search.
UPDATE 1/11/14
Latte was seen by Dr. Dennis Crow of the Animal Dermatology Clinic at the referral of Dr. Christy Soileau on January 10, 2014. Latte suffers from acute environmental allergies which require treatment for the rest of her life. Test results reveal sensitivity to: Grasses: Johnson, Bahia; Molds: Alternaria, Penicillin; Weeds: Ragweed, Marshelder; and Trees: Mt. Cedar, Box Elder, Yellow Pine
Latte is a Velcro dog, she is going to be in whatever room you are in, no matter which one it is! She will give lots of kisses and loves belly rubs. She'll wake you up in the morning just for attention! She is very friendly dog and seems to love everyone. She can leap several feet, she's like a deer, it's beautiful, but this also means she needs at least a 6 foot tall wooden fence for a yard. Latte is still young enough to have some energy, but this little girl can also sleep just about anywhere. Latte plays with toys, but she usually wants someone to play with her. She is your typical napping greyhound for most of the day, but will show off her speed in the yard at least once during the day doing zoomies. She also loves to ride in the car and rides extremely well. For an added bonus, she takes baths really well too! She would love to be in a home with people to kiss and play with, to curl up with, to snuggle with, a yard to run in and a mom or dad who is home a lot. She would do better in a home where she is only in her crate for no more than 4-6 hours a day (she also likes the radio on!).

When Latte came to GALT, it was thought that she might have food allergies, but after trying different foods, it was determined that Latte needed to see a veterinary dermatologist. Thanks to the specialist, who works with GALT her allergies have been identified. The allergy test found her to be allergic to several things indoors and outdoors. Just like humans, there is a treatment similar to allergy shots, but for dogs, they are oral drops, much easier than needles! The way human's allergy therapy is done is very different from animal therapy. For humans after a set number of years they are finished. However, with dogs they are on the "drops" for their entire lifetime or their allergies will flare back up. The allergy testing and treatment done by GALT has started her on her first 6 months of allergy therapy starting January 2014. Her allergy therapy will need to be refilled every six months at a cost of approximately $270. Our veterinary dermatologist also recommended a supplement and baths with a high quality oatmeal shampoo to keep her skin in optimal condition. A good balanced diet will also go a long way in helping her stay healthy as well.

Latte's Foster Mom