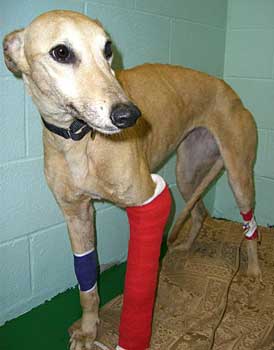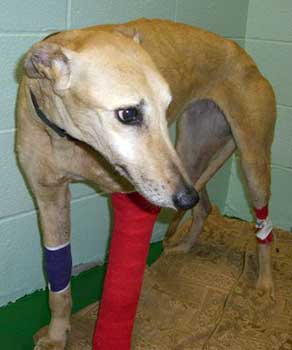 Krystal, aka Kmax Rosebush, is an almost 4-year-old fawn female, born August 3, 2003. Krystal's sire is Coldwater Bush, making her grand sire Molotov, and her dam is Kmax Kay Lynn. Krystal was picked up from the Ft. Worth Animal Control on Monday, April 30, with a broken left front leg and a severe gash on the right front leg. She has 5 races to her credit, all at the Wichita, Kansas, track starting May 15, 2005 and ending June 4 of that same year. Her whereabouts since that time are unknown.
Krystal was taken to VCA Preston Park Animal Hospital where she was seen by Dr. Christy Soileau and Dr. Sue Mace initially. She was very dehydrated, so fluids were given and an x-ray was taken. It showed that Krystal sustained a fractured distal left radius/ulna. On Tuesday she was transferred to the Dallas Veterinary Surgical Center under the care of Dr. Bob Radasch. Surgery was performed, putting a plate and four screws to stabilize her left leg. Krystal will be in a splint for at least 4-6 weeks, and her activity level will be very limited in her foster home. It is not known at this time if Krystal is cat or small animal tolerant.
Update 8/10/07
Krystal's cast has been taken off, and she is using her leg more each day. Shortly after the cast came off, Krystal went into heat, so her medical procedures have been delayed. Krystal's teeth and gums are in terrible shape, so that is another hurdle for her to overcome.