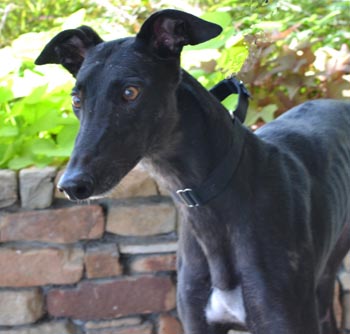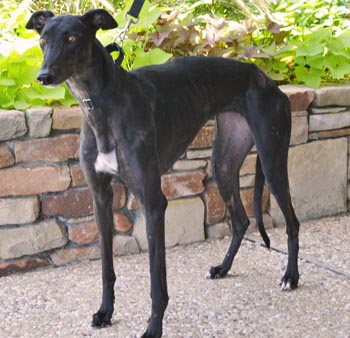 Katrina, aka Kiowa Happy Tina, is a 3½-year-old black female born December 6, 2008. Her sire is Kay V Tatoo Tony and her dam is Kiowa Hail Happy. Katrina has 29 races to her credit on Trackinfo.com. She started at Orange Park, FL on May 24, 2010 and finished at Daytona Beach, FL on October 8, 2010. Her whearabouts since then are unknown until she was found as a stray in Fort Worth after the area tornados on April 3rd. A kind family took her in and turned her over to GALT when it became clear she was not displaced because of the storms, but had likely been on her own for a while.
Katrina arrived covered in scabs and multiple open wounds, and she was very thin. She has been successfully treated for three tick-borne diseases: Ehrlichia, Babesia, and Lyme. And she has come such a long way - she has healed, filled out, and is a beautiful, shiny girl now!
Katrina is a love-bug of a girl. She just wants to be near people - even on walks, she'll stick right by your side. She would love to snuggle with you if allowed on the furniture.

Her house manners are good - I can't vouch for her self-control if you were to leave a steak on the counter, but she's generally good about keeping her paws off the counter. She bounces around when she gets excited for walks or when her people come home from work, but she waits patiently for her bowl at mealtimes and is a calm girl in general. She crates well when we're both gone.

She's living with other greyhounds and a 30 lb dog, and gets along with all. She often tries to share dog beds with others, even with our grumpy old girls. She looks miles better than the thin, wounded dog who arrived at our house, but her demeanor has always been happy, happy, happy!

Katrina's Foster Parents
Katrina is not cat trainable, but she does fine with small dogs.