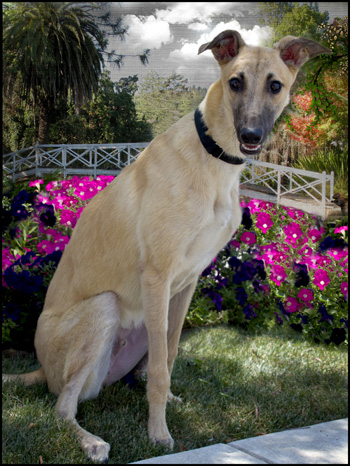 Jimmy is a 9-month-old fawn male born September 25, 2010. His sire is Farloe Black from Ireland, and his dam is Escrow Officer. Jimmy is the tattooed "C" in his litter, which is unregistered with the National Greyhound Association. Jimmy came to us with a broken tibia, which was repaired surgically with a 6 hole plate and screws by Dr. Radasch of the Dallas Veterinary Surgical Center. Jimmy was seen on June 24th by Dr. Radasch for final x-rays following his surgery. The fracture has healed, the implants are stable and Jimmy can gradually return to normal exercise activity. Jimmy is extremely happy to let out the puppy energy accumulated during his recovery and is completely mobile.
On July 1st, Jimmy attended a complimentary visit with Jennie Ralph, MPT of North Texas Animal Rehabilitation. He received a list of physical therapy exercises such as fast pace walking and trotting, stretching and massages to perform at home for conditioning. All these can be done in the comfort of home and air conditioning! The best part - Jimmy gets to swim in the pool. How lucky for him that it is summer! Here's a picture of amphibian Jimmy.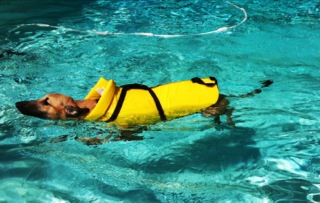 The only directive for Jimmy's future (besides having fun) is to remain fit and not gain unwanted extra pounds once he reaches his full grown weight. This will prevent excess stress on his leg as he gets older. Well, there are not too many obese greyhounds in the genetic pool - so that should be easy for him.
Jimmy is cat trainable.
Jimmy is 9 months old and enjoying doggy adolescence after completing 8 weeks of post surgical resting. His recovery was successful and he is ready for that one special forever home.

Jimmy is house trained. He barks to alert the need to go out, or paces back and forth. He is energetic and very playful towards both dogs and people. While he enjoys napping, as greyhounds do, he loves to play, tumble and go after toys and in general wants to be with his people and where any action is happening.

He is a smart, fast learner. Jimmy knows commands: sit, down, leave it, take it and drop it. He also knows "give a kiss" for those who just love affection. He walks on lead very well, without pulling.

Please come meet this happy, friendly puppy at one of GALT's meet and greets!

Jimmy's Foster Mom