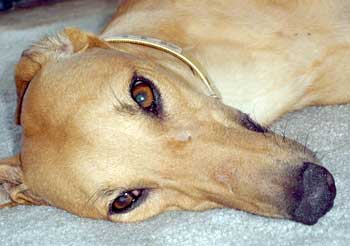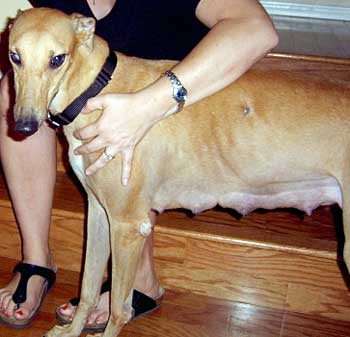 Jill must have gone up the hill with Jack at the racetrack and did more than fetch a pail of water (and didn't tell anyone). She gave birth to her litter of five puppies on August 9, 2006. Three males and one female survived. Being a mother comes naturally to her and she has settled right into that role. She's a very attentive little mommy.
She is a beautiful red fawn girl, almost 2½ years old. She's a healthy 59 pounds. Retirement and motherhood both suit her, and she has adjusted easily to the good life in a home. She and her pups instantly integrated into her foster home with four other dogs (three small ones and one Greyhound), one cat, and a three-year-old toddler. She is very tolerant and accepting of the probing three-year-old child in her foster home and always exuberantly seeks affection. Jill is not shy or jumpy at all. She is full of energy, very playful, and loves to be petted, kissed, hugged, and walked whenever possible.
She will make someone a very willing and loving pet someday. Jill is the perfect example of what draws most people to Greyhounds. She is sweet, gentle, extremely loving, and strikingly beautiful.
Jill was born in March 2004, and her grandsire is Wigwam Wag. Jill was a racer for seven months until she met Jack at one of Texas' racetracks. Check out the First Family page for more puppy pictures.