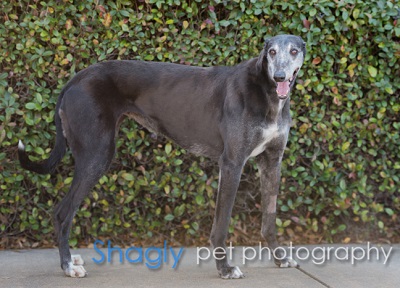 Jaylowe, aka TMC's Jaylowe, is a 9-year-old black female born July 23, 2006. Her sire is Lonesome Cry and her dam is TMC's Josalynn, making her a half-sibling to Omomma. Jaylowe has 134 races on record at Derby Lane from 2007 to 2010. She then went on to whelp a litter of six registered puppies with Kiowa Myth in April 2013. She is ready for retirement for sure!
Jaylowe has bassed an initial cat test and is living in a foster home with cats.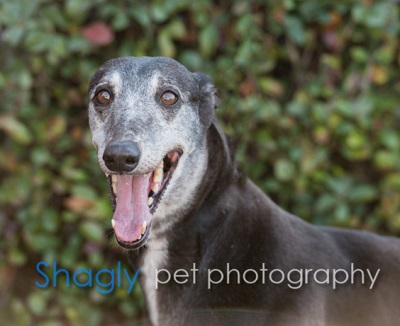 UPDATE 2/10/16
Jaylowe suffered an injury on February 8 at her foster home which has resulted in a broken toe on her right front foot. She is on medication and being kept very quiet and leash walked in her foster home while the toe heals.
UPDATE 3/10/16
X-rays were taken yesterday of Jaylowe's broken toe, and she is healing. Dr. Lindsay Murray of VCA Preston Park Animal Hospital estimates another 4 weeks of keeping her quiet and on restriction in her foster home.
UPDATE 4/7/16
X-rays reveal healing of Jaylowe's broken toe. She should be kept quiet for several more weeks, which means no zoomies in the yard quite yet.
Jaylowe is a wonderful, submissive black beauty, peppered with some grey in her face. She might possibly be the softest greyhound we have ever had. She never meets a stranger! Everyone is her friend. She walked right into our home and kissed all of our greyhound girls (we have 3 ) and promptly found her a bed to call her own and settled in very quickly. She has been tested and is cat and small dog friendly - she'll be trying a foster home with cats soon. We saw her outside today sunning herself and when our other greyhounds came around, she laid on her back and played with the other greys lying on her back with her legs in the air. In addition, she is an expert roacher! She is quite a food houndie. She loves meal time and recently learned to eat cookies. It was clumsy at first, we had to place the cookie in her mouth to convince her it was food, but now she lines up when she hears the familiar cookie jar noises. She has never had an accident, and can hold herself for a long time without going outside, whether it is at night or during our work time. When we are at work, she has full run of the house and doesn't bother a thing or get on the furniture. However, we do have a large dog kennel that she sometimes go into for a nap in the evening. She has learned about mirrors, glass doors, and stairs. She loves to go bye bye in the car and pretty much lies down the entire time, although a few times she sits and looks out the windows. Yes, she sits! Jaylowe deserves a most wonderful home with a nice soft bed and an endless supply of cookies. You will feel like you won the lottery if you adopt this radiant, beautiful girl.

Jaylowe's Foster Family
More of Jaylowe