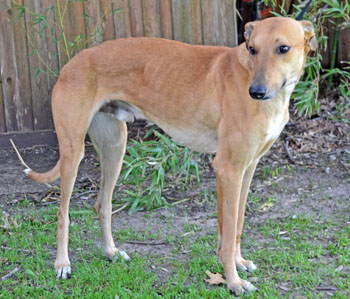 Hugh is a red male who is estimated to be 2 years old. He was found as a stray in Amarillo and while, thankfully, he arrived heartworm negative, he did need to be treated for tick-borne diseases. But now Hugh has successfully completed treatment for Ehrlichia Canis, with a PCR (Polymerase Chain Reaction) test showing negative! Hugh's foster mom noticed he limps off and on, and it happens at random times.
Dr. Jeff Ellis of VCA Preston Park Animal Hospital performed detailed x-rays on Hugh, and it has been determined Hugh has chronic arthritis in both of his elbow joints. This makes sense as Hugh was most likely used for coyote hunting in West TX before he was found as a stray. Hugh's condition is manageable, but it will be a life long scenario for him. He is currently on Dasuquin to see if it improves his condition.
He is ready to meet you, are you ready to meet him?
Hugh is not cat tolerant.
Hugh, aka "Hugh Jackman" , is a BIG (80 pound), happy, brilliant boy! His large head and goofy personality make me think of a lovable lab. But everything else is all greyhound, especially when it comes to roaching on his back. He can roach anywhere: against rosebushes and fireplaces, but he can also do a perfect free-form roach on any hard surface with no support!

Hugh has never had an accident in the house, he learned the dog door after watching one of my greyhounds go thru it just once, and has fallen in love with every dog and every person he has ever met. He has only gotten up on my bed once. We immediately had a little chat about that, and he has never tried it again!

Hugh enjoys spending time in the great outdoors and is perfectly happy to spend nice days lounging on a dog bed on the deck watching for squirrels, birds and other intruders. When the neighbor's dogs come out, Hugh enjoys catching up with all their news.

Hugh is tall enough to see what's on the kitchen counter so the counter tops must be "Hugh Proofed" for his own safety. He is a big kisser, so watch out! He loves the drive-by kiss: he will give me an enthusiastic kiss strategically placed right across my check: then he's off and running!

He adores children and is very gentle with them; but, Hugh is not cat safe. He loves attention, belly scratches, ear rubs and sweet talk. His size will wow you, but it's his happy-go-lucky personality that will really win you over. Come to visit with Hugh Jackman soon!

Hugh's Foster Mom