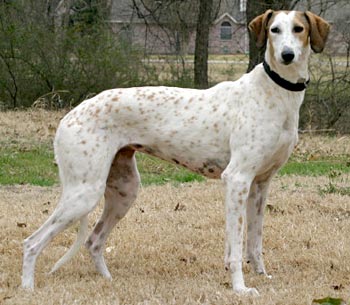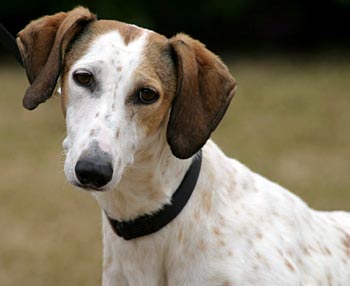 Hope is an approximately 3-year-old white and fawn greyhound, and she doesn't know that there could be something else in her bloodline! She was found as a stray, and as most strays, she was heartworm positive. She has completed her treatment and is now heartworm negative! Hope is ready to find her forever home! Her rescue story is below. Hope is living in a home with other greyhounds and cats. She has not been tested with small animals yet.
Her cat test: Hope is cat trainable. She mostly ignores them. She finally got up the courage to sniff Nigel while he was lying down.
Hope is an adorable hound with thick eyelashes and a lot of play! She was timid at first, but has learned to love life in a home. During her heartworm treatment, she had to be kept very calm and quiet. That couldn't have been an easy task. Yes, she's snoozing peacefully with the rest of the hounds for now, but she loves to frolic around the living room a couple of times a day. She's not quite sure about the toys, though. Play bows and dashing here and there are enough for her. She can also be a little shy when her food bowl gets set down, but is more than happy to eat when I walk away. Meanwhile, when breakfast and dinner are being prepped, she sits at attention just outside the kitchen, knowing something good is coming her way.

She mostly ignores the cats unless one of them is swatting at her from under the end table. Then she gives a bark. It's best to keep in mind that indoor cat and outdoor cat are completely different situations. Hope gets along greyt with the other hounds of the house, and gets very excited when I come home. My arrival is Greyhound pandemonium!

She's earned the nickname Mona Lisa because she often gets that "look" when she's being mellow. She loves TLC once she gets used to you. Seeing is believing with this adorable girl!

Hope's Foster Mom
GALT received a report of a stray greyhound in Ft. Worth, on an access road right off of busy Highway 820 South, by Without Walls Church and Hope Center. One of GALT's fosters and volunteers who lived in the area olunteered to go look for the greyhound. Here is her account: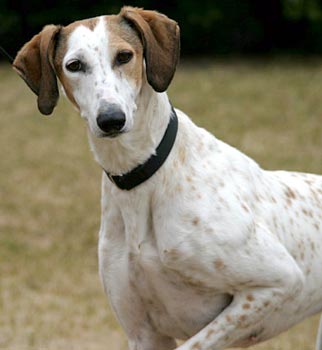 Hope's Rescue

On Sunday morning. I waited till it was above freezing (I'm a wimp!) and took my GreyGirl Alexa to the location the dog had been spotted. I went into the building to see if anyone had seen the dog, but everyone was in a service. When I went back out, I saw the stray curled up in a ball on the grass strip between the parking lot and the access road. I grabbed Alexa, and the spare collar/leash out of the car, and approached the stray. Alexa went up to the stray and, giving all sort of submissive signals, sniffed the stray dog's face – the stray got up and I could see it was a girl.

When I took a step towards the girl, she ran away a bit, so Alexa and I started back towards the car (I figured I'd get some canned dog food to tempt her). She followed till I got to shade – she stayed in the sun, she was also a wimp. So Alexa and I circled back, Alexa and she took turns sniffing and I gently slipped the collar over her head.

I led her back to the car, opened up the back of the SUV – Alexa jumped in and I lifted the girl in She cautiously stood on the blankets in the back of the SUV. I fed her some of the girls' left-over breakfast while I opened a can of food and hid a Capstar in it. She ate that as well, and we headed up the road to VCA Preston Park Animal Hospital.