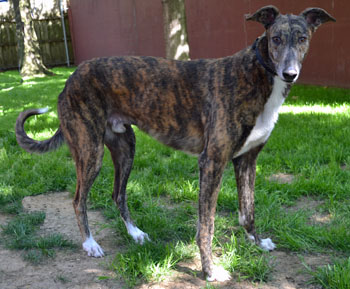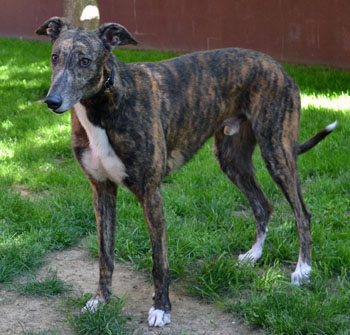 Hogan, aka Gable Hulk Hogan, is a 6½-year-old dark brindle male born May 3, 2007. He has a gorgeous white blaze and white feet. His sire is Gable Oscar and his dam is Gold Digger. Hogan has 77 races to his credit on Greyhound-data.com. He started at Gulf Greyhound Park in Texas on August 1, 2009 and finished at Jefferson County in Florida on August 30, 2010. He was found as a stray in Galveston. This big boy is just a doll!
Hogan should not live with cats. He would do best as an only dog.
UPDATE 5/31/13
Hogan's first heartworm treatment was administered on April 19. He is being kept quiet in his foster home, and his second treatment is scheduled soon.
UPDATE 6/17/13
Hogan received his second round of heartworm treatment on June 17 and June 18. His foster home will be keeping him very quiet until he can be retested in 60 days.
UPDATE 9/1/13
Hogan's heartworm test came back negative! He is healthy and ready to find his forever home!!!
Hogan wants me to tell you all about him.... here goes: He LOVES kids and wants very much to be surrounded by them at all times. Maybe he's a bit confused and thinks he's a kid himself. He also loves kissing, so you'd better be ready! Hogan is so affectionate - he just can't help himself, he wants you to know how much he loves you.

He loves stuffies and rawhide chews. He will occasionally play with the stuffies and always eats the rawhide. Hogan knows the difference between the two. Hogan is a great traveler, he loves car rides and has never met a stranger. Want a greyhound who roaches on his back? He roaches almost constantly.

Hogan is a fan of the dog door, and learned to use it instantly. He will not get up on your furniture, and that's a good thing since he is a BIG boy. However, he will want to be with you wherever you go, so be prepared to have him by your side at all times. Hogan is a silly, happy, very joyful 6 year old ex-racer. His playfulness knows no bounds so he needs an active household with some trouble-makers to keep him happy and tired.

Sound too good to be true? He does have 2 faults. 1: He is the sloppiest water drinker I have ever seen, so you'll learn to put down some rugs around the water bowl. And 2: He wants to be your one and only dog love, and would prefer not to share you with another four-footed friend.

Hogan's ideal home: KIDS to play with, lots of love, treats and car rides. Got these? Then come on out and meet your new family member!

Hogan's Foster Mom